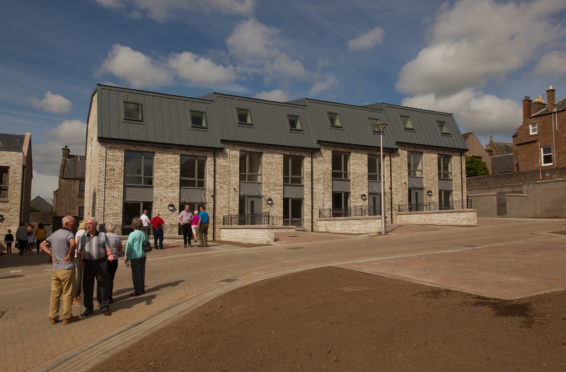 A 3.5% rent rise is being lined up for Angus Council tenants to help the authority balance the books in its bid to deliver multi-million pound budget savings.
The increase has been recommended for rubber-stamping by a special meeting of communities committee councillors in Forfar on Tuesday, a week before the expected delivery of the full budget package which is expected to cut council spending by £13 million.
Angus' planned council tax rise and other budget details are yet to be outlined but senior figures have warned of "tough decisions" in the effort to slash a projected £36m from the budget in the next three years.
The 3.5% rent increase was the lowest of three options proposed by the area's tenants steering group, with 3.75% and 4% also mooted.
The figures were released for consultation but only 182 responses – just 2.5% of all tenants –  were received, with more than 80% in favour of the 3.5% figure.  It represents a Consumer Price Index (CPI) plus 1% rise.
Following a 4% hike last year, officials say the recommended increase will keep Angus rents amongst the most affordable in Scotland, taking the Angus average to £68.56 per week.
Housing service leader John Morrow said: "The Tenants Steering Group… agreed that rents should be increased in order to ensure the council can continue to invest in its existing homes as well as build new affordable housing for Angus."
The council is in the midst of its largest new-build investment programme for decades, to deliver around 400 homes by 2022.
Mr Morrow said the rental income will also help deliver the authority's stock improvement programme which includes heating system upgrade at the rate of around 500 per year, an accelerated improvement programme targeted towards putting new bathrooms in all 7,000 council houses by 2026 and energy efficiency measures for 2,500 properties.
Highlighting successful completions such as the transformation of the former Chapelpark primary in Forfar and large-scale regeneration of Arbroath's Timmergreens housing estate, he added: "Construction activity has a significant impact on the local economy and every £1 spent can generate £2.84 in indirect and direct economic stimulus."
The council forecasts its housing capital programme will generate economic benefit of £284m over the next five years, creating and sustaining around 1,800 jobs.