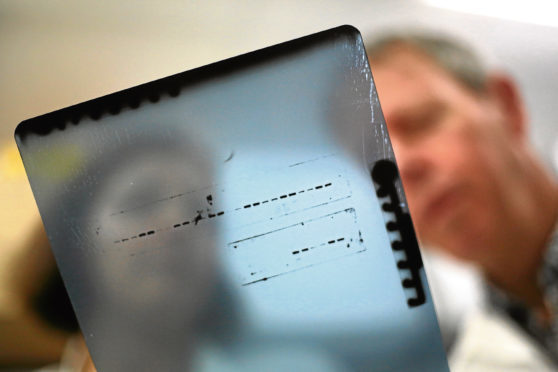 Tayside health chiefs have promised an action plan to help Parkinson's sufferers after a major study revealed growing numbers are struggling to access the services they need from an overstretched NHS.
Around 1,000 people across Tayside are among the near 12,500 Scots currently diagnosed with the condition.
With the figure predicted to rocket by 40% in the next two decades, Parkinson's UK has said major changes are needed to cope with the rising demand.
A report released by Parkinson's UK in Scotland  and backed by leading clinicians has suggested a 13-point action plan for improvements to tackle what has been described as unacceptably long waiting times for diagnosis and a shortage of specialist nurses.
The report also recommends the establishment of multi-disciplinary Parkinson's teams to provide a more holistic approach to care for people with the complex neurological condition.
Parkinson's UK Scotland director Annie Macleod said: "This is the first time that we've shone such a searching spotlight on Parkinson's services in every part of Scotland.
"We recognise that people providing Parkinson's care are doing an incredible job, but we've been challenged by people with Parkinson's to discover whether their individual experiences are unique or part of a bigger and worrying picture.
"Sadly, we've found problems and failings are not isolated incidents but are part of a Scotland-wide under-provision of services for people with Parkinson's."
She said all but one health board – Western Isles – had inadequate specialist Parkinson's nurse provision.
Across Scotland, the charity says there should be at least 40 Parkinson's nurses, instead of the fewer than 30 at present.
Following a new appointment last year, NHS Tayside has the equivalent of 3.2 full time nurses, but Annie said this was still a part-time post short of what it should have.
"Neurology services are routinely missing the Scottish Government's 12-week target for new outpatient referrals in all but the smallest island health boards," she said.
"Parkinson's UK in Scotland finds these delays wholly unacceptable."
Speaking on behalf of the Tayside Parkinson's Forum, Dr James Shaw, consultant physician in medicine for the elderly at NHS Tayside, welcomed the report.
He said the forum, which includes multi professionals from Angus, Dundee and Perth & Kinross health and social care partnerships and NHS Tayside operational unit, would seek to develop an action plan to further improve services.
"The care of people who have Parkinson's is a priority for all of us, and we currently provide a range of multidisciplinary services to support people with the condition living in Tayside in a holistic way," said Dr Shaw.
"The care for patients with Parkinson's requires services provided from a diverse group of healthcare workers and together we provide a complex, but comprehensive service."
'Outstanding' staff, but more needed says Angus sufferer
Janet Niven from Letham, near Forfar has been living with Parkinson's for five years.
She praised the "outstanding" work of health staff  but said more specialists were needed to help cope with the increasing demand for services.
Janet said: "I've been lucky to have such outstanding service from a multi-disciplinary team in NHS Tayside but I know that not everyone can say the same.
"Despite the best efforts of the people in the NHS that we see working flat out in Tayside there's a real feeling amongst the Parkinson's community that we are all too easily overlooked in terms of resources and investment.
"Too often we have to wait too long for diagnosis. Follow-up appointments are too short and infrequent and accessing other therapists and services can be a real struggle for some.
"Specialist Parkinson's nurses have a vital role but they are so overworked – it would be much better if there were more of them.
"Parkinson's isn't going away any time soon, not for me and the community and not for the NHS either.
"With numbers significantly increasing in the coming years it's vital that NHS Tayside and local Health and Social Care Partnerships face up to the challenges that Parkinson's presents and ensure that specialist recruitment is increased and services re-shaped to make them fit for purpose."