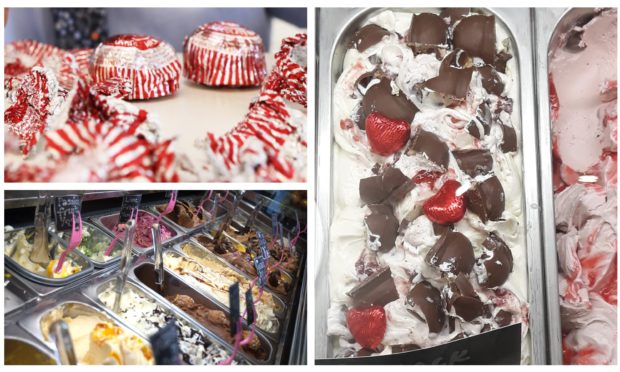 A Mearns ice cream shop has created a new flavour from one of Scotland's most iconic snacks – and it has gone down a storm.
E.Giulianotti in Stonehaven has introduced a Tunnock's Teacake mix ahead of Valentine's Day, and it is proving a massive hit with locals.
Shop owner Marjory Stephen first introduced the unusual flavour during 2018 and brought it back due to popular demand on Wednesday.
A photo of the Tunnock's ice cream was posted to the shop's Facebook page and quickly went viral, leading to a string of people coming into the shop for a scoop.
The recipe uses a plain ice cream paste combined with strawberry and teacakes sliced in half – keeping the snack's distinctive mallow intact.
Ms Stephen, who makes all of her own ice cream and whose family has been running the store in Stonehaven since 1899, said she made up the mix "for a bit of fun".
She added: "It is something I hadn't done for a wee while. It wasn't really specifically for Valentine's Day but obviously people have really gone for it.
"I was just looking at the Facebook post earlier today and thinking 'I can't believe it'.
"It seems to be a favourite today. Lots of people have been in. It has been unexpected – a great reaction.
"We make our own ice cream here. The process of making ice cream paste takes over an hour to do. Once you have your ice cream mix you can add different flavours to it.
"It doesn't take that long to make once you have that mix made up."
She made up two pans worth of the Tunnock's Teacake ice cream this week, with more than 20 teacakes individually sliced to for us in the process.
Ms Stephen added: "(For this mix) I'm actually chopping up Tunnock's teacakes. People get the mallow as they eat their ice cream. There is about five packs of teacakes, so about 20-25 of them."
She added that a spell of milder weather had led to an unusually busy week for ice cream."
Uddingston-based Tunnock's is one of Scotland's oldest firms.
The teacakes – made with a biscuit base and marshmallow centre – are among the company's most well-known products and are popular across the whole of the UK.