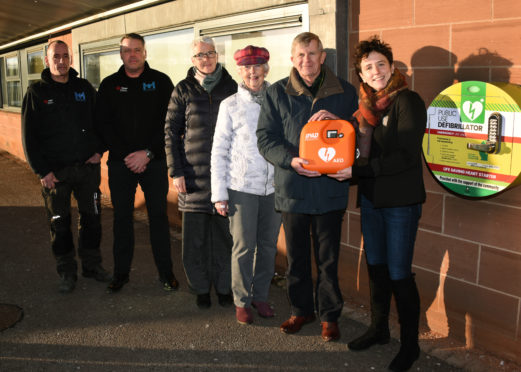 A posthumous donation following a resident's funeral was among the community contributions which has put Montrose on the life-saving map.
The success of the heart-start project was also boosted by donations as diverse as an over-60s exercise class, gifts from a 90th birthday and a sponsored cycle run.
The initiative was led by a small team working on behalf of the town's Inner Wheel and Rotary clubs who initially set out to raise £3,000 for two devices amid fears Montrose was lagging behind other Angus burghs.
Donations flooded in following the launch in August 2017 and after eight months £16,409 was raised — enough for 10 automated external defibrillators (AED).
The cabinets have now been installed by electricians Bill Mustard and Chris Taylor and soon all of the sites will be registered with the Scottish Ambulance Service.
First responders' local coordinator Melanie Cargill has also organised two certificated training sessions for the public and more are planned.
Project coordinator Susan Coull said the town had come a long way since August 2017 when Montrose had only one device at the Golf Links..
"The Save a Life Montrose team has had tremendous support in seeing this project through to completion and our thanks are due to everyone who has contributed in any way," she added.
"The appeal was for two – then there were 10."
The sites of the 10 defibrillators include the Links Health Centre, Borrowfield Community Centre, Guthrie Bros Garage, Robert Ritchie Hi-Fi, the Townhouse, the British Legion and the RNLI Lifeboat Station in Montrose.
Machines have also been installed at Craigo Community Hall, Hillside Post Office and Southesk Court in Ferryden.
Susan said: "Each has a local guardian who will check the condition of each cabinet and defibrillator and submit the findings to the Scottish Ambulance Service each month.
"Almost all residents of Montrose and District will then live within half-a-mile of 24/7 access to potential life-saving equipment."
The stainless steel cabinets and IPAD defibrillators were purchased the group's behalf by St John Scotland in Angus and Dundee, a charity dedicated to saving and enhancing life, which has a memorandum of understanding with Montrose Rotary Club.
This includes a commitment of support of upkeep and replacement of parts when necessary.
St John has a team of first responders trained by the Scottish Ambulance Service in a variety of treatments including CPR and using a defibrillator.
Anyone who needs to find an AED in a hurry if someone has a heart attack can do so by calling for an ambulance.
The operator will give the address and security code for the nearest device.