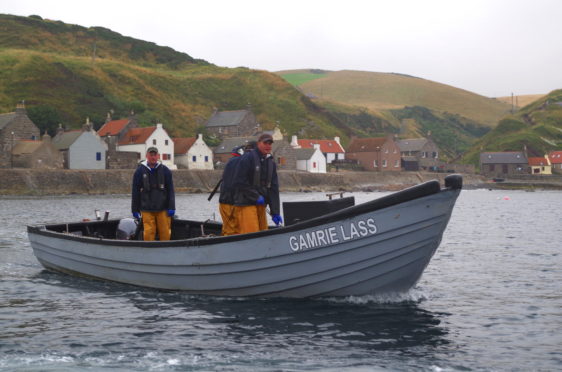 A controversial film about the battle between environmentalists and Scotland's last traditional salmon net fishermen will have its UK premiere at the Glasgow Film Festival this weekend.
The documentary 'Of Fish and Foe' follows the tense, real-life skirmishes when the Pullar family from Usan, near Montrose, find themselves a target for activists, conservationists, anglers and river owners.
The family has been fishing for salmon along the east and north coasts of Scotland for generations.
However, during the summer of 2015, animal and conservation activists declared war on them because they shot seals if they stole salmon from their nets.
River owners and anglers also joined the fracas because they wanted the net fisherman out of the way so more salmon will come up their rivers.
John Pullar, a subcontractor with the Scottish Wild Salmon Company, the trading name of Usan Salmon Fisheries Ltd. said: "We are one of the most hated families in Scotland".
His brother Kevin, also a subcontractor, added: "How would you like to be constantly followed by masked activists, filming your every move although you're doing nothing wrong?"
The documentary is a tense 90 minutes of confrontation as the family tries to hold out against impossible odds.
Director Heike Bachelier said: "We originally wanted to make a beautiful film about the last of Scotland's traditional salmon net fishermen.
"We didn't realise we were walking into a war."
Director and producer Andy Heathcote added: "This is a controversial story with many sides.
"A lot of people won't like that fishermen try to shoot seals raiding their nets, yet the fishermen say the seals are wiping out the salmon.
"Activists want to save the seals, the anglers want more salmon for themselves and the Pullar family want to protect their livelihood. And so the lines of battle are drawn.
"Salmon net fishing families like the Pullars have been vilified for decades but their voice was largely unheard."
Andy explained the battle between the fishermen and activists resulted in a ban on net fishing with those remaining in the industry forced to hang up their nets.
Sunday's premiere promises to be lively with fishermen, activists and filmmakers taking part in a  question and answer session.
George Pullar, a director of Usan Salmon Fisheries Ltd., said they will attend the premiere and will take part in the question and answer session.
He added: "Following a complaint in 2014 to the EU by Salmon and Trout Association Scotland,  Scottish Government enacted a temporary three-year prohibition on coastal salmon netting.  We were not stopped on conservation grounds.
"In 2018, we were advised the Scottish Government was continuing the prohibition indefinitely."
The film will also screen at the DCA in Dundee on March 28.