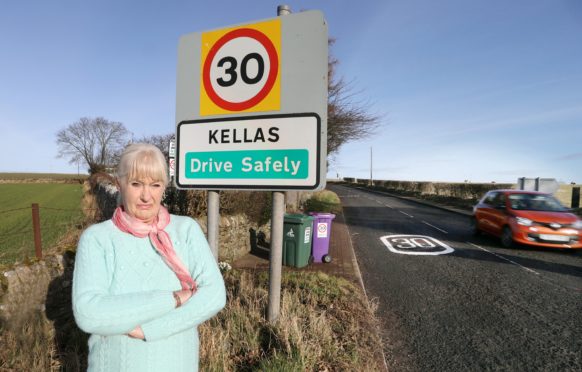 An exasperated Angus woman's drastic measures to slow down speeding drivers in her village appear to have paid off.
Marilyn Mauran – who already has signs on her wheelie bins telling drivers to cut their speed – put up her own 30mph signs at the bottom of her garden in the village of Kellas.
Mrs Mauran told Angus Council she was also considering purchasing a cardboard cut-out traffic cop to put outside her front door after declaring that enough is enough.
She said speeding drivers have been ignoring 30mph signs in the village which has led to a series of near-misses including a horse being left in a state of panic.
Following her protests, Angus Council have now painted 30mph roundels on the road and there are plans for vehicle activated signage to be brought in, albeit on a temporary basis.
Mrs Mauran said: "I have signs on my wheelie bins saying 30mph and 'Please Slow Down in our Village'.
"I have now put up a metal stand in the very bottom corner of my garden which is visible to drivers and put a 30mph sign on it.
"They would see that much easier than the official one which is currently covered by other road signs.
"Purchasing a life-size cardboard cut-out of a traffic cop is also a serious consideration."
There is a sign slowing drivers down to 40mph some 200 yards from the village, before the limit is further reduced to 30mph.
Mrs Mauran said both signs are "disregarded" by drivers who have "no respect for the residents" including the 30mph sign which she claimed is completely obscured.
She said the 30mph roundels which have now been painted on the road was a positive step forward but much more needs to be done to tackle the situation.
She said: "Continually, every day cars, vans and some HGVs are speeding in and out of village.
"There will be a bad accident eventually because there have been quite a few near misses."
An Angus Council spokesman said: "A speed survey was carried out in Kellas in 2018 after concerns were raised locally and it did not record any evidence of significant speeding.
"Police Scotland are also aware of the concerns and have advised that they give Kellas passing speed enforcement.
"Kellas is on a list for the temporary provision of vehicle activated signage which is due in the village shortly.
"This where signs are rotated around Angus villages."