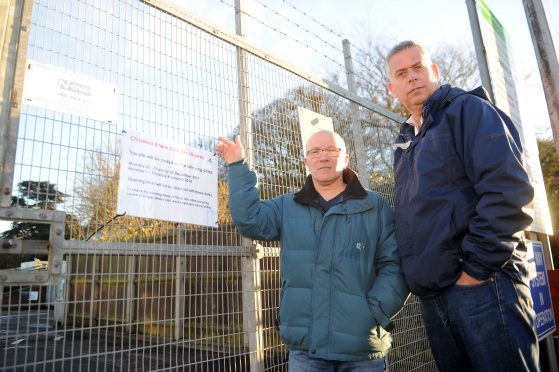 A battle of the budgets is looming in Angus despite a plea for unity from the council's leader.
Carnoustie's Independent councillors Brian Boyd and David Cheape will put forward an alternative budget at Thursday's special meeting of Angus Council.
Councillor Boyd said they have been working to bring forward a "financially competent budget proposal"  which would be "a win-win for both Angus Council and residents of South Angus".
He said it would bring Carnoustie and Monifieth in line with every other locality in Angus, offering similar waste management and recycling facilities at a new purpose built centre.
It is understood that various sites between Monifieth and Carnoustie have been identified.
The two Carnoustie councillors believe residents of the two towns will be far happier to have a shared local site that accepts general waste, rather than the current two sites which only accept materials for recycling.
Mr Boyd said: "The set up costs of the proposed project would dip in to less than 3% of the council's capital budget spend.
"It's ridiculous that residents of South Angus have their carbon footprint forcibly increased by having to drive a round trip of over 20 miles to Arbroath rather than using a local waste service centre.
"This, coupled with the highest fly-tipping rates in Angus as a result of people being unable to get rid of their rubbish locally, presents the ideal solution to help 'keep Angus beautiful'.
"The existing Carnoustie site could be used for council housing in the area where there is the highest demand in Angus with a 20-year waiting list which is another win-win."
Under plans brought forward by the coalition administration, centres at Arbroath, Forfar and Montrose are now open seven days per week.
The other facilities in Brechin, Carnoustie, Kirriemuir and Monifieth are open five days per week but only accept materials for recycling, with no mixed or general waste allowed.
Mr Cheape said the alternative budget would generate annual revenue savings compared with current facilities, whilst increasing public services.
He said: "It can be delivered without additional borrowing and without having to cut other proposed capital expenditure.
"If the Angus administration engage positively with our amendment then we can deliver more equitable service to the people of Carnoustie and Monifieth and help take a step forward in a fairer share of capital spend for South Angus."
Council leader David Fairweather called for unity and said everyone should be working together for the good of Angus by backing the administration's budget proposals.
"I believe this is the best budget we could have put forward and would urge all councillors to get behind it," he said.
"Political differences should be put to one side and everybody has to work together for the good of Angus.
"If someone else comes in and uses the money we have prudently saved to go back on something – for instance car parking – that would be a huge error.
"I believe this budget is the correct one for taking us forward."