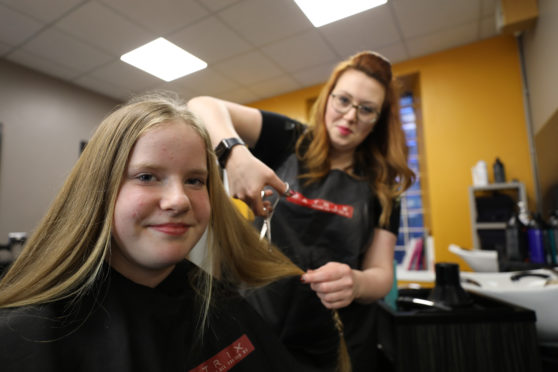 An Angus schoolgirl has celebrated her 13th birthday by raising money for a cause close to her heart.
Katelyn Clark, a first-year pupil at Arbroath Academy, got her locks shorn at The Studio Hair Design in Guthrie Port on Thursday in memory of her late grandfather.
Jack Yuille, who was a 'gentle giant' known as 'Big Jack', died of cancer a few years ago  and Katelyn's motivation is to help others – of all ages – who are currently battling the disease.
Instead of asking for gifts this year, she has decided to give money to the charity.
She set up an online fundrasing page and has also been collecting cash donations as each wig costs between £500-700 to make.
The teenager got 12 inches of her hair cut off, which will now be sent to The Little Princess Trust to make wigs for children and young adults who have lost their hair during treatment.
Katelyn said: "My grandad passed away from cancer a few years ago.
"My motivation was to help people my age and of all ages who are suffering things most people couldn't imagine going through and to make that difficult experience a tiny bit better."
Katelyn's big sister Alanna said Big Jack lived locally in the town and worked offshore on the rigs.
"He was a gentle giant and a popular man," she said.
"My grandfather wasn't very open about his cancer struggle as he wasn't one to look for sympathy.
"Katelyn has always been very caring and giving and keen to help others before herself and she had planned to cut her hair for this charity on the day of her 13th birthday for some time now.
"Another motivator is that most people have experienced someone in their lives having cancer and know the difficulties and heartbreak it can bring.
"She wanted to be able to bring someone else that little bit of happiness she could during their difficult time."
The Little Princess Trust was launched in 2006 by the parents of Hannah Tarplee, along with help from friends and from Hannah's school, Hereford Cathedral Junior School.
Hannah was the original Little Princess.  Sadly she was diagnosed with having a Wilms tumour and after a brave battle, died in 2005.
At that time, finding high quality wigs for children was very difficult and only after a long search was a suitable company eventually found which made a wig for Hannah.
People can donate to Katelyn's cause at
https://www.justgiving.com/fundraising/alanna-clark2