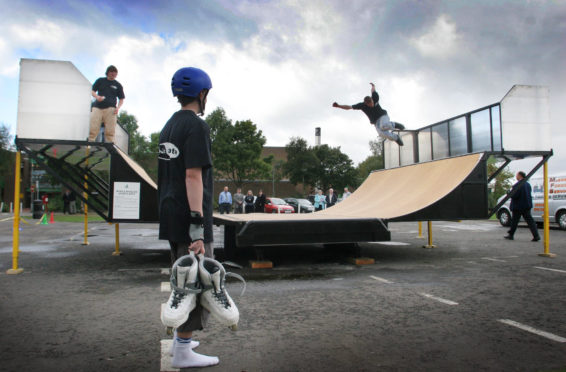 A pop-up skateboarding stunt ramp is up for grabs in Angus after the pioneering piece of equipment was found languishing in a local yard.
The near £25,000 mobile half-pipe was hailed as a European first when it arrived in the country in 2005.
The three-tonne fold-out structure was built to wheel around local towns and villages which did not have a purpose-built skatepark of their own, giving skaters or boarders a 9 x 9-metre playground on which to hone their skills.
Featuring a shelter area for youngsters under the ramp, it was a popular attraction in the summer months, but the development of permanent skateparks in Arbroath, Carnoustie, Forfar, Kirremuir, Monifieth and Montrose means it has rarely been used for the past five years.
Angus communities committee councillors have been told the half-pipe could cost as much as £6,000 to bring up to scratch, but they have agreed to offer it up to a local community which does not already have a facility of its own.
Bids will be assessed under community asset transfer rules and the applicant scoring highest in terms of community benefit will be offered the item.
Groups within a five mile radius of existing skate parks will not be permitted to apply.
---
>> Keep up to date with the latest news with The Courier newsletter
---
Brechin and Edzell SNP councillor Kenny Braes said local skaters had been pushing for months to get their hands on the ramp.
"I have had dozens of emails about this as well as conversations with officers and constituents," he said.
"The request for the half-pipe came from Brechin Community Council in the summer time and it is only at the end of February this is now coming before us.
"I know of one community group who tell me they are ready and waiting and want this for the school holidays.
"I'd like application forms for this available within days so we can get going on this."
Mr Braes said the fact that the structure had lain unused for so long also raised concerns about the council's stock control.
"This is quite a big thing so quite how it can go missing for months I don't know," he added.
Communities chief Stewart Ball told the committee: "We will make sure that the proper communication takes place with community groups and that things move forward as quickly as possible thereafter."