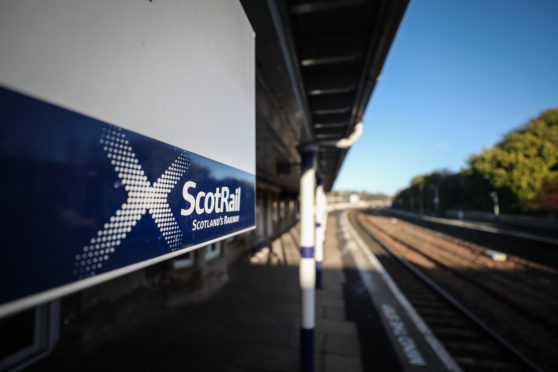 ScotRail has been urged to ensure passengers from Laurencekirk are not "cut off" from the main Aberdeen to Glasgow service.
North-east MSP Andrew Bowie has written to the train operator after he was contacted by constituents who have complained no services on the route currently stop at the village station.
The Scottish Conservative MP for West Aberdeenshire and Kincardine said the situation at Stonehaven is "very similar" and residents have to drive to Montrose to catch trains on the Aberdeen to Glasgow route.
Travellers now face a choice between "inconvenient" additional journeys to the closest train station to Laurencekirk or simply ditching rail travel altogether and driving to Glasgow.
In his letter, Mr Bowie states: "We are all trying to encourage people to use greener forms of transport, to do this we must ensure the greener alternative is available and convenient.
"The introduction of services stopping at Stonehaven between the hours of 8am and 5.30pm and Laurencekirk on a regular basis would greatly increase the potential for more people to use the train, rather than car or bus.
"I appreciate there are challenges in timetabling, however it does seem strange to have no Aberdeen to Glasgow service stopping at these settlements between those core day time hours. "
He asked Alex Hynes, ScotRail managing director, to advise him of the reasons for the lack of stopping services and of any potential changes that could be made to introduce such services in the future.
Mr Bowie continued: "I have been out in Laurencekirk and have spoken to many constituents who are understandably frustrated about this.
"The Aberdeen to Glasgow service is one of the main rail routes serving the north-east and it is not fair they are being cut off from boarding at their local station.
"Many will feel they have little option but to take their car, which is the opposite of what the Scottish Government and local council are trying to encourage."
A ScotRail spokesman said, by creating an interchange station at Montrose, it has allowed for more local services to operate at stations like Laurencekirk, providing customers with more options for travel.
This has resulted in daily services at Laurencekirk increasing from 24 to 40 since December with more than 5,000 extra seats each day along the route.
A regular service also provides opportunity for better integration with local bus services.
He said: "The improvements made to our timetable last December were another milestone as we work to provide better services for Scotland's railway. This was just the first phase of the work we are doing to deliver for our customers over coming year.
"The investment the ScotRail Alliance is making to modernise the railway, introduce new and upgraded trains means we will deliver faster journeys, more seats, and more services for our customers."