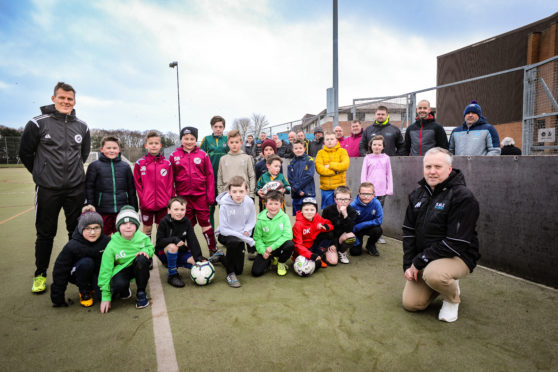 The chairman of an Arbroath charity is fielding a team of sports enthusiasts to work together to fund an outdoor all-weather pitch for the whole community.
William Mitchell of Skilz Academy has been joined by a number of football clubs and rugby players who are taking on the challenge of raising £250,000 to allow them to achieve their goal of providing a training and playing facility.
The group is set to lodge an application with Angus Council this week for the community asset transfer of the current astro-turf pitch at Arbroath Sports Centre next to the high school.
Their efforts have been sparked by the loss of training and matches on game days during inclement weather, with William stating there is now a real desire among the local community for an upgrade.
He said: "We plan to remove the current surface which was installed in 2004 with a lifespan of approximately eight years, and replace it with a brand new 3G surface.
"This would be the first of its kind in Arbroath.
"Currently the surface is largely unused due to its state of repair and it is generally viewed as being unsafe. A number of local teams won't go on it."
He has been working with sporting organisations, including Rugby Scotland, Arbroath Lads Club, St Murdochs, Arbroath Vics, Arbroath Harp, Arbroath Walking Football, Police Scotland and Dundee and Angus College, who have all expressed an interest in using the facility.
He continued: "We are trying to get athletics clubs to come on board.
"A lot of clubs go to the all-weather pitch at Condor at the moment but there is restricted access as it is on a military base, and you need a car to get there.
"We have already had people asking about booking a 3G pitch, the demand is there."
All those involved will be invited to take responsibility for the ownership and running of the facility which will also be available for primary and secondary schools.
Skilz Academy currently runs three, ultra-violet, glow in the dark sport sessions for children and is involved with the Friday Night Project for the town's youths at the Saltire Centre.
It is hoped, if the community asset transfer is successful and funding can be obtained, the 3G pitch could be available for all within eight months which would help build on its work in the town.