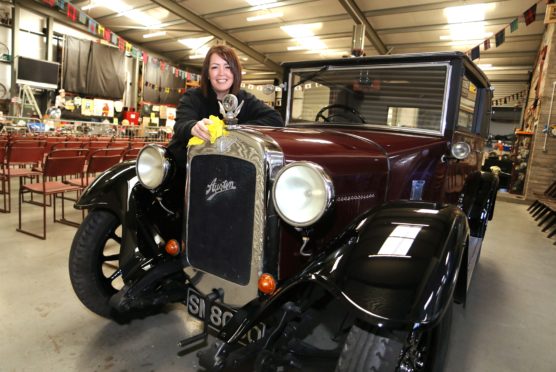 Vintage vehicle enthusiasts will flock to Angus this weekend for an auction set to shine a light on the earliest days of automotive illumination.
Interest is expected from buyers from across the UK and overseas in the latest Strathmore Vintage Vehicle Club sale at their base a stone's throw from Glamis Castle.
The club, whose Scottish Transport Extravaganza at the Angus landmark is one of the area's biggest summer crowd-pullers, has gathered more than 800 lots for Saturday's sale.
Keen interest has already been shown by viewers who have already made their way to the Bridge View House base on the site of the former Glamis station, with the biggest prices set to come from vehicles in the sale, including an octogenarian motor the club is hopeful will stay in it home area.
The 1935 Vauxhall 12/6 bears the SR prefix which was the mark of Angus registered vehicles and is thought to have spent virtually all of its life in the hands of district owners.
SVVC chairman Allan Burt said: "It's a sound project for restoration or renovation and has come to us from a local owner, having previously been in Alyth, so it would be great if it could stay in Angus.
"We also have a very nice 1930 Austin 12/4 with what is believed to be a one-off body by a firm called A C Penman of Dumfries.
"It's quite rare to see cars of that age that were bodied in Scotland, but what is even more interesting is that the firm actually survives to this day and is involved in creating specialist vehicles," added Mr Burt.
Two-wheeled enthusiasts are also catered for with the chance to bid for various motorcycles, including a 1957 BSA 500CC Special sidecar combination ready to hit the road when decent weather arrives.
Mr Burt added: "We always have hundreds of small lots of automobilia, with items such as old signs always proving popular.
"There are also a number of lamps from around 1910 which we are sure will be of interest to veteran car enthusiasts.
"They obviously represent the earliest days of motoring and hopefully will prove sought after items."
Viewing continues all day on Friday with the first lot going under the hammer at 9am on Saturday.