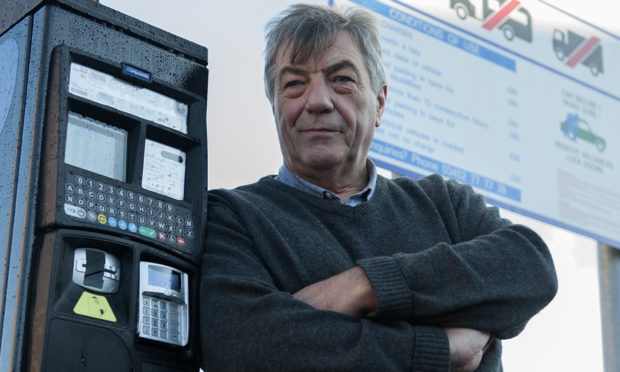 A prominent Angus trader has laid the blame for the closure of a Kirriemuir cafe firmly at the door of Angus Council.
Barrie Ewart, chairman of the Kirriemuir and Local Business Association, has hit out at the parking charges introduced by the local authority on November 1 last year, claiming they have driven people out of the town centres.
He said the resultant downturn in trade was forcing businesses to close their doors and warned it was now "too late" for some to recover.
Mr Ewart of Autosales rounded on the council after the weekend announcement that Granny Annie Mays, a popular café in the town centre, was to shut.
Owner Karen Duncan, who has relocated to a small unit at the Logie business park on the outskirts of the town, said: "With a very heavy heart we have had to make the difficult decision to close.
"It's been a long and hard few months with the lack of footfall in Kirriemuir town centre.
"Angus Council have a lot to answer for introducing parking charges to an already struggling town.
"For those who know me it's not from the lack of trying."
Mr Ewart, who has campaigned against the parking charges since their introduction, said: "Today we see the closure of another business in Kirriemuir, the third announced since the introduction of parking charges.
"I hold Angus Council administration directly responsible for the downturn in footfall across Angus high streets and particularly Kirriemuir.
"I also hold every councillor responsible for not challenging the parking policy and insisting that it be addressed.
"It is now too late, Angus Council have forced a change of habit in Angus shopping."
An Angus Council spokesman said: "We regret the closure of any local business. Decisions about starting, closing, or re-locating a business are often taken over a significant period of time and rarely hinge on one factor alone.
"Over recent years, high streets throughout the UK have faced significant challenges from an increasing shift to internet shopping.
"Many, if not most, high streets are subject to parking restrictions and a requirement to pay to park locally.
"In Angus, it is possible to park for free on street in designated areas for up to 30 minutes.
"Off street parking is available for just £1 an hour up to a maximum of £4, and our permits offer parking for as little as 85p per day.
"The Member Officer working Group was established, as agreed at the Communities Committee on January 15, to develop cash payment options for off-street parking, either by scratch card or cash meters in the car parks."