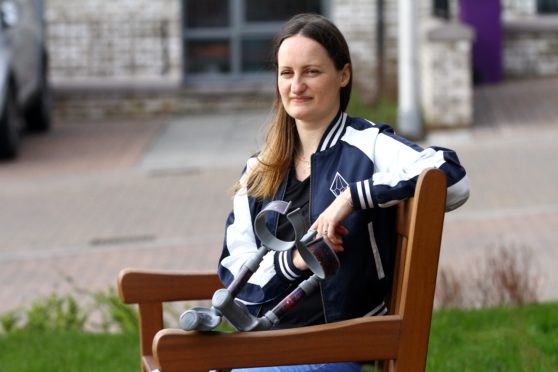 An Angus woman has praised a charity for its support after a brain injury left her contemplating ending her life.
Anne Johnston from Forfar, has had to put her photography business on hold following the accident and says she felt like giving up at times.
She has spoken out to highlight the link between brain injuries and mental health difficulties.
Miss Johnston, 38, was diagnosed with post-concussion syndrome after banging her head while sledging with her family in Arbroath in March 2018.
She said the brain injury charity Headway had given her "amazing support".
"When I cried my way through a week of appointments, after seven months of living with a brain injury I just didn't know how to carry on any more," she said.
"I couldn't see a way forward and I didn't want to – if this was my new normal I didn't want it.
"Looking back I never would have ended my life but it's the closest I've ever felt to it.
"I was so desperately unhappy."
Miss Johnston – who struggles to walk unaided and has issues with noise sensitivity  – said she had finally realised she can't go on "chasing my old life".
"I had new limits and abilities and it was better to see what had happened as drawing a line in the sand, taking my current abilities and trying to grow from there," she said.
"My life now is in the slow lane. It's a much more relaxed pace of life and I think I'm okay with that.
"It took a long time to accept what I'm going through and I do think it's an ongoing process.
"What I do know for sure though is being able to do less doesn't make me less of a person.
"My life now is in the slow lane. It's a much more relaxed pace of life and I think I'm okay with that."
She said she still suffers setbacks but felt better equipped to deal with them and praised Headway for the support it had provided to help her adjust.
"I don't think I'll ever give up hope of recovery but I'm not aiming for my old life any more," she said.
A spokesperson for Headway said: "Our mission is to promote understanding of all aspects of brain injury and provide information, support and services to survivors, their families and carers.
"In addition, Headway will campaign to reduce the incidence of brain injury."
The Dundee and Angus Headway group can be contacted on on 08000 272233.