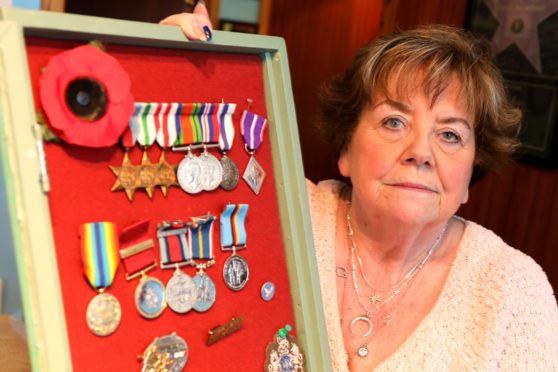 The widow of a Holocaust hero has offered to educate Angus youngsters on the real-life horrors of the gas chambers.
Caroline Monro, whose husband Joseph died aged 89 in 2013, was left sickened when vandals scratched Nazi graffiti into the stonework of Brechin Cathedral.
She said the recent attacks were an insult to her late husband's memory and now she wants to give youngsters history lessons on his behalf to turn the outrage and disbelief into some momentum for change.
Angus Council said anti-racism should be embedded in the curriculum and it would welcome a discussion with Mrs Monro.
She said: "I'm 23 years younger than Joe so I'm privileged to be able to carry on his legacy and tell the stories of what he went through.
Widow of war hero who saved Jews from German Holocaust camps hits out at Brechin swastika vandals
"Something has to be done. The Easter holidays are approaching so we will have to hammer home what's right and what's wrong.
"I would be happy to come and give a talk about Joe's service to his country and I'm sure his story would hit home.
"Education is the way to teach young people about the horrors of war."
Brechin-born Mr Monro – who was also a Normandy D-Day Landings hero – was part of a special forces unit which went behind enemy lines to rescue 253 Jews from a concentration camp in Nazi Germany during the Holocaust.
He received a medal from the government of Israel for his heroism – one of 13 he was given for his wartime heroics in the fight against Hitler.
He received the Queen's Silver Jubilee Medal in 1977 for bravery and the Queen's Diamond Jubilee Medal in 2013.
He was also honoured by the French government and the French armed forces for his heroics while carrying out special operations their country during the Second World War.
Brechin Cathedral was targeted twice in 48 hours at the end of February when a hate-filled, anti-religious message was scratched on the walls in the wake of a previous day's swastika attack.
Church elder Archie Milne said: "I hope Mrs Monro gets encouragement from the schools regarding this."
A spokesman for Angus Council said: "Our schools provide a broad range of learning opportunities to address anti-racism and engage with our children and young people
"Through a variety of contexts they explore anti-bullying, human rights, tolerance, respect and diversity."
He added: "We would welcome a discussion with Mrs Monro."
Recent data revealed Angus anti-social behaviour complaints were at their highest ever level. Area police commander Chief Inspector David McIntosh has said moves are under way to bring agencies together to tackle the issue head-on.