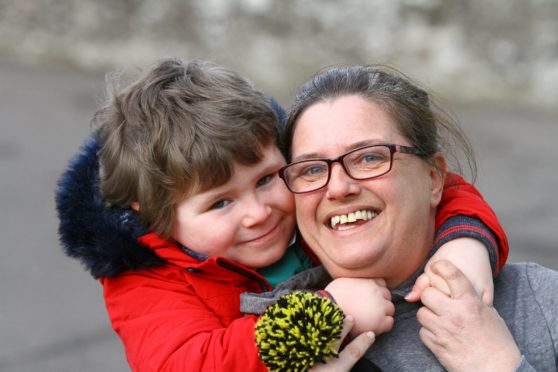 Schoolchildren have urged Taysiders to get active to make a cancer-hit classmate's dreams come true.
Carson Gallagher from Brechin, who is just six, is battling a devastating brain tumour for a second time.
Carson's friends at Stracathro primary have now organised a "virtual run" for the community to raise money towards a trip of a lifetime for his family.
The youngsters run a mile during their lunch break every week at school and are urging the wider community to #runforcarson.
Mum Lynne Massie praised the community for their continued support for the family following the return of Carson's brain cancer.
"The support we have received has been overwhelming and the kind messages and gifts have provided us all with strength," she said.
"The happier Carson is, the better the family deal with it as you can't focus on the negatives when he is being a happy chappy.
"With this being his second tumour it has been a much more frightening time for the family and the support has meant even more this time around.
"I know that he's my wee boy, but he really has seemed to captured everybody's hearts."
Carson was initially diagnosed with a brain tumour in 2017 after suffering headaches and being sent home from nursery.
The tumour was removed, however, Carson's family received the news that the cancer had returned just before Christmas.
Carson's ultimate dream is for his sisters to meet their favourite Disney princesses because they missed out on time with their mum when he was in hospital in Edinburgh.
"It is typical of him that he is always thinking of others," said Lynne.
"I know that his own wish would be to go to Legoland, as he absolutely loves Lego and superheroes.
"The ultimate dream would be a trip to Florida, but dependant on his pending chemotherapy treatment and his ability to travel, we have the option of Legoland at Windsor and a ferry ride to France to visit Disneyland Paris."
Carson's friend Oscar Waddell, 10, recently cut off his hair for the cause and raised £1,361.
Now his mum Lee Ann, 44, a friend of the Gallagher family, has decided to take on her own personal challenge and will run the Manchester marathon.
She has been training six days a week for the past 18 weeks.
"Being a mum of four with a husband who works away, sometimes this has meant running at 5am with a head torch, or pounding the treadmill at midnight after the children are in bed," she said.
People can run/skip/walk/cycle or swim for Carson and can choose to raise the entry fee however they wish.
An event page has been set up by Stracathro Parent Council on Facebook and people can register interest at https://www.facebook.com/events/366075137566985/
People can also donate to Lee Ann's marathon challenge at https://www.justgiving.com/crowdfunding/lee-waddell-runsherfirstmarathon