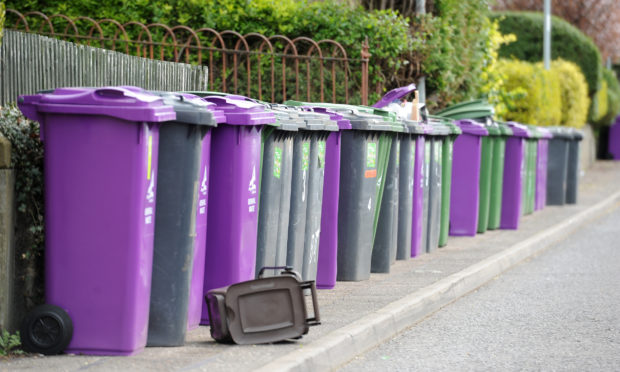 Angus Council has admitted that looming bin strikes will have "significant impact" on kerbside collections.
It comes after trade union Unite made public the dates of a series of 48-hour stoppages which will form part of three months of industrial action by binmen in Angus.
General waste skips will also return to Angus recycling centres in Brechin, Carnoustie, Kirriemuir and Monifieth during the strike action to reduce the impact of any missed kerbside collections.
Unite regional industrial officer George Ramsay blasted Angus Council ahead of the strike action and said the local authority was "fully to blame" for the "imminent disruption".
From April 8, the county's refuse service is to switch to a two-shift pattern, moving from the current 7am to 3pm arrangement to alternating 6am to 2pm and 2pm to 10pm collections.
Unite members voted by 92%, on a turnout of 87.2%, for industrial action after raising concerns about the dangers of operating the service safely and effectively, as well as the negative impact the changes will have on work-life balance.
Staff branded the plans dangerous and disruptive, arguing employees could be put at risk if they are expected to empty bins during winter months when the roads and pavements will be untreated, especially early in the morning and late at night when it will be dark.
Mr Ramsay said: "We firmly believe that these proposed changes will ultimately result in a poorer service for the public, and greater pressures on the workforce.
"We are confident that the public will understand and support the reasons for our members taking this action.
"But, it can be avoided if Angus Council meaningfully re-engage with us to resolve this dispute."
The dispute centres on Angus Council imposing changes to the terms and conditions of 140 staff who work in environmental services.
The first days of industrial action, which will include a ban on overtime and work to rule, will take place from midnight on April 8 until late June.
A series of 48 hour stoppages will commence from midnight on April 15; April 22; April 29; May 6; May 13; May 20; May 27; June 3; June 10; June 17; and June 24.
Angus Council said the dates which were made public by Unite in a press release on Wednesday were "regrettably" not communicated "to Angus Council directly at that time".
A spokesman said: "While we will do all that we can to minimise any impact on the public, it is inevitable that these actions will have a significant impact on our kerbside collection services.
"During any industrial action, please put your bins out kerbside on the scheduled collection dates.
"If your bin is not collected, please wheel it back in. Consider whether you can take your waste to one of our recycling centres.
"During any industrial action, we will have general waste skips at all of our recycling centres.
"This is a temporary measure only, aimed at reducing the impact of any missed kerbside collections.
"During industrial action, any households where there is a missed collection will be able to place three additional bags of waste out on their next purple general waste bin collection."
Leader urges public to help council during strike
Angus Council leader David Fairweather said contingency plans would be in place during the strike action
Mr Fairweather said the changes are being introduced so the local authority can make ongoing savings of £160,000 a year from the service and remove approximately £2 million of vehicles from its fleet.
He said it was not a decision that has been taken lightly.
"Our aim is to try and achieve these savings with no reduction in service to the community," he said.
"By introducing efficiency measures like this, we can deliver our council priorities whilst protecting frontline services.
"I am reassured that, in respect of the bin collection shift changes, there are no job losses."
He said the council has had to find savings of £43m over the past six years and over the next three years will be searching for another £36m in savings.
"In the last six years, our staff numbers have reduced by more than 500 and this is a pattern that will continue over the next three to five years as we strive to become a smaller, more effective Angus Council."
He said the council fully appreciated that a change in shifts represented a significant challenge for staff.
"We took this into consideration when we opted to postpone the introduction of any shift change for 12 months to give staff as much time as we possibly could to prepare for the change," he said.
"From the outset we have sought to engage and consult with staff and their trade union representatives in an effort to address their concerns, issues and head off any potential dispute.
"We will seek to maintain close contact and be available to meet with them at any stage during their industrial action.
"I regret that they have decided to resort to strike action as this will cause inconvenience to our communities.
"I would ask our communities to assist us in trying to reduce any impact this action has."