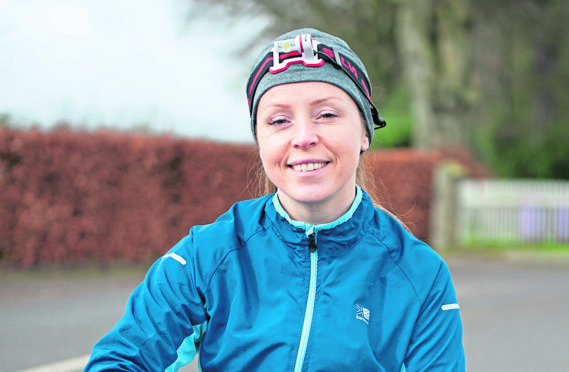 An Angus mum has told how a cancer-hit six-year-old's illness is motivating her to smash through the pain barrier during marathon training.
Lee Ann Waddell, 44, a friend of Carson Gallagher's family, is in the final stages of preparation for this weekend's Greater Manchester Marathon.
Inspired by Carson's determined fight against brain cancer, Mrs Waddell, from Inchbare near Brechin, decided to take on her own personal challenge to help raise money to help Carson get a dream holiday with his family.
It comes after the youngster was diagnosed with a second cancerous brain tumour, soon after his first was removed.
"Five months ago some friends had asked if I would like to run the Manchester marathon," she said.
"The thought of running for a bus would be too much for me, never mind run a 26.2 miles, but that week at Carson's sixth birthday party, we found out that the new tumour found on Carson's brain was cancerous.
"I made the decision on the spot that I would put myself through the training and run in his honour.
"Any time it gets tough, I just think about how Carson braved all of his treatment last year with a smile on his face and never complained at all.
"It pales in comparison.
"Carson's bravery will motivate me on Sunday and help me get me over the line – no matter what."
Carson, from Brechin, is battling a devastating brain tumour for a second time.
He was initially diagnosed with a brain tumour in 2017 after suffering headaches and being sent home from nursery.
The tumour was removed, but Carson's family received the news that the cancer had returned just before Christmas.
Carson's ultimate dream is for his sisters to meet their favourite Disney princesses because they missed out on time with their mum when he was in hospital in Edinburgh.
Mrs Waddell's son Oscar, 10, is a friend of Carson's and cut off his hair for the cause, raising £1,361.
"I have to admit that I was very naïve as to the commitment required and the sacrifices which you have to make to properly train for a marathon as a beginner," she said.
"The training has been six days a week for the past 20 weeks, 115 training sessions and over 470 miles run so far including 18 and 20 mile runs.
"These can take four or five hours so I couldn't have done it without the support of my friends, family and neighbours.
"Being a mum of four with a husband who works away, sometimes this has meant running at 5am with a head torch, or pounding the treadmill at midnight after the children are in bed."
A 'Just Giving' donation page has been set up for donations at www.justgiving.com/crowdfunding/lee-waddell-runsherfirstmarathon
Carson's friends at Stracathro Primary have also organised a "virtual run" for the community to raise money towards a trip of a lifetime for his family.
An event page has been set up by Stracathro Parent Council on Facebook and people can register interest at www.facebook.com/events/366075137566985/