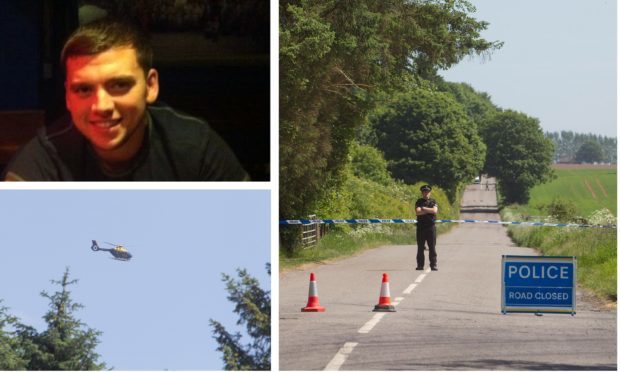 A woman at the centre of a love triangle involving Angus murder accused Steven Dickie learned he was in a relationship with his female co-accused Tasmin Glass just months before the killing of offshore worker Steven Donaldson.
Nicola Matthews had been a school sweetheart of Dickie, who along with Callum Davidson and Glass, is accused of murdering Arbroath 27-year-old Mr Donaldson and setting him on fire at a Kirriemuir nature reserve last June.
Dickie and Davidson also face charges of making threats against a number of people, including Sam Wilkie, to whom Miss Matthews had a child in January 2018.
She went back to Dickie while she was heavily pregnant, leaving him again after a short time  — and learned soon after that he was seeing Glass.
Evidence on the second day of the Edinburgh High Court trial focused on a number of other charges on the indictment, during which the court heard from Mr Wilkie.
The 29-year-old told the court of a series of phone calls in early January 2018 in which Dickie "ended up going crazy down the phone".
He told the trial: "He kept saying meet me, meet me at the Peter Pan playpark, then I heard Callum in the background saying 'You're getting killed, I'm gonna kill you'."
Two men accused of Angus murder told alleged threat victim he was 'getting it'
Kirriemuir murder accused Tasmin Glass told Steven Donaldson's sister 'stay strong' hours after discovery of body
The witness said Dickie made another call the same day from Kirrie Hill in which he again heard Davidson in the background, saying: "I've got an axe, we're going to find you at some point, there's no point hiding."
Defence advocate Jonathan Crowe, representing Davidson, put it to Mr Wilkie that he had made up the story to "heap blame on the doorstep of Callum Davidson".
"You had put up with years of hassle. You would see that as a gilt-edged opportunity to potentially put this to bed for once and for all?" he suggested, to which the witness replied: "Certainly not".
Jury shown images of burned-out car and dead body as nature reserve murder trial begins
Miss Matthews, 24, said she was with Dickie for about four years until around 2014/15 when she started seeing Mr Wilkie.
They had an on-off relationship and she went back to Dickie during the breaks, the trial heard.
It eventually ended in late 2017, and she stayed with Dickie until the following spring, after which she learned he was in a new relationship with Tasmin Glass.
Ninewells Hospital clerical worker Miss Matthews told the trial she had heard a conversation between Dickie and Davidson in which they said they were going to "go after Sam".
"They were going to get Sam to give a girl a lift and then Callum was going to run him off the road," she said.
Asked by advocate depute Ashley Edwards if there had been any information about where that might be done, the witness said it was to be on Kinnordy Road, which runs past Kinnordy Loch.
She also told the court of an incident when her mother's car was damaged and Dickie thought Mr Wilkie may have been responsible.
"He said he was going to get Sam and chop his head off. He went out, got an axe out of the back of his car and then drove off," said Miss Matthews.
Cat owner tells trial Davidson and Dickie swung and kicked pet in carrier bag
Steven Dickie swung a kitten in an Asda bag-for-life before it was kicked by co-accused Callum Davidson after they had offered to tend for the injured animal, the second day of the Kinnordy murder trial heard.
In evidence relating to one of several other charges faced by Dickie and Davidson on the Steven Donaldson case indictment, 20-year-old Demi Young told the court she got to know both men through her friendship with Davidson's then girlfriend after she moved to Kirriemuir.
She told the trial about an injury suffered by her pet, Milo.
"He had been outside quite a lot and got his back leg cut and it was really bad," she told the jury from the witness box.
"Callum said he would take it up to his farm. He said he would clean it out, disinfect it and stitch it up."
"I saw them kind of swinging the bag, Callum kicked the bag, they put it in the van and then they drove off," she said.
"They said they would bring it back in a few days, he was just resting."
In response to prosecutor Ashley Edwards, Miss Young said she never saw Milo again.
"They said they had let it out in the forest and it ran off."
The trial also heard from Shona Sutherland, the mother of Sam Wilkie, who also gave evidence yesterday about what the court heard was bad feeling between him and Steven Dickie over Nicola Matthews, with whom they were both involved.
She spoke about an incident in August 2017 in which Dickie and Davidson stopped in a car in the centre of Kirriemuir and spoke to her.
"Callum Davidson had a flare for the shooting. He said he was going to throw it in a car. He said he was going to kill Sam and I just used to say shut up with this nonsense."
The witness also told the trial about an incident last February in which a girl jumped on her in the street after she left Kirrie's Ogilvy Arms Hotel, where Davidson and Dickie had also been.
She got the better of the girl and pinned her to the ground.
The witness said: "Steven came and grabbed me on the throat and said 'Get off her or I'll batter you myself, you know I will'."
"Callum said he was going to burn my house down, well petrol bomb it was the words. I was so scared, I thought, what if he does," said the witness, who told the trial she then went to police to report the matter.
The trial, before Lord Matthews and a jury of eight women and seven men, continues.