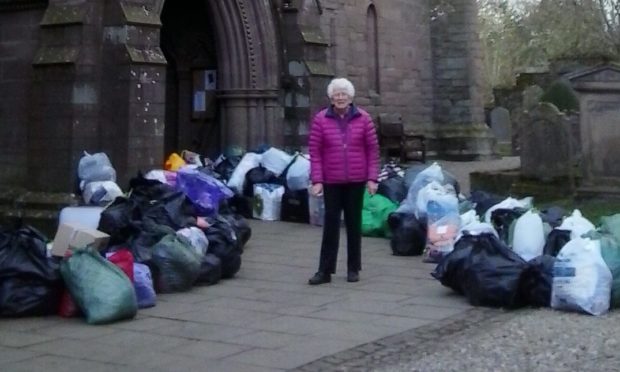 A Syrian mercy mission has prompted renewed calls to save closure-threatened Brechin Cathedral.
Church elder Archie Milne said the response to a plea to send goods to the Lebanese-Syrian border demonstrated the importance of the historic building.
Irene Gillies, an elder of Brechin Cathedral, tirelessly works on behalf of many charities and put out a call to the Angus public on behalf of Edinburgh Direct Aid.
Mr Milne said: "They, at present, are involved with transporting and distribution of goods destined for refugee camps located just inside the Lebanese border with Syria where there are at least 30,000 people, many who have been there for over three years.
"Projects supported by EDA have been the building of small schools to allow for the education of children in these camps and a great deal of that support has been by the giving of a variety of goods from the people of Angus.
"Irene put out a call to the people of Angus for these types of goods and they have responded, once again, without hesitation."
More than 250 bags of donations were uplifted at the gates of Brechin Cathedral by a local businessman who delivered them to the EDA depot at Granton.
Irene said 80 of the bags came from Forfar St Margaret's Church.
The contents are now stored in Granton before they will be loaded into a container for shipping to Lebanon and Syria.
Mr Milne said: "This is just another way which Brechin Cathedral and its congregation goes out to help those in great need.
"This time in Syria but other times more locally and in particular, to the under-privileged children of Brechin at Christmas when the congregation donates presents via their Angel Tree.
"These are just some of the activities organised by Irene and it just goes to show that Brechin Cathedral cares – but who cares for Brechin Cathedral as, for some time now, it has been under threat of closure by the Church of Scotland?
"We cannot lose this magnificent and historic place of worship.
"It is the only cathedral in Angus for the people of Angus, which is demonstrated by their gestures of giving to those who need it most."
The financial position, along with a continuing decline in attendance and the departure of the minister, has prompted talks to seek a union with Gardner Memorial Church.
Brechin owes its origins to the medieval cathedral, which is the oldest building in the burgh, and the Celtic monastery which preceded it.
The building itself is to celebrate its 800th anniversary in 2020 and the oldest part of the cathedral is the Pictish round tower which is about 1,000 years old.