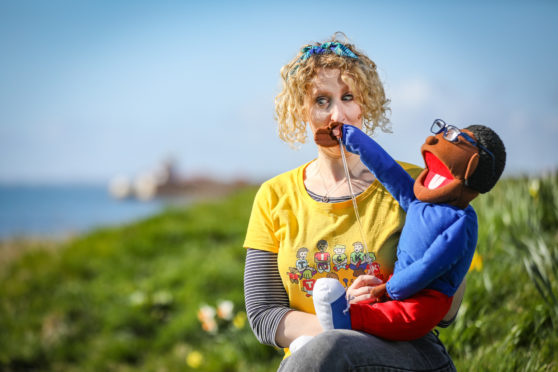 Abbey Craig is one of those remarkable young women who identifies a problem, deals with it head on and, above all, ensures her boundless love for life is passed on to all who know her.
Never one to shy away from a problem – she battled breast cancer and faced a tumultuous misdiagnosis the devastating disease had spread to her ribs and bones and was terminal – she has the uncanny knack of tackling serious issues with infectious fun and laughter.
Now settled back in her native Angus after moving from London last year with her husband, Barry Smale, Abbey is bringing joy to the younger generation through her Tick Tock music and puppet classes.
As her life has gone full circle Abbey, 41, has drawn on her experiences of the last few years to make her shows inclusive for all children, including those who have faced life-limiting illnesses.
In only 12 months she has established three classes in Auchmithie, Carnoustie and Broughty Ferry.
As she has developed her shows she has taken the bold step of adapting her puppets to relate to many issues facing the youngsters, their families and friends.
The idea was first sparked when Abbey was living in London and was doing research for a range of children's books she was working on.
She said: "When I was given a terminal diagnosis, I needed a project to work on.
"My forte was with children, I could write and my dad could illustrate.
"I did lots of research and found there was a real lack of books for children with life-limiting illnesses.
"I got everything I could get my hands on, including books for adults about the death of their child."
Abbey's research and her own illness enabled her to access staff and families in hospices, including those with life-limiting and chronic illnesses.
She interviewed parents, their children and siblings, and while her books are currently on hold, she has come up with a novel idea of representing these children in her puppet shows.
She explained: "I've now realised Tick Tock is also a forum to support children who may have a life-limiting illness, or a chronic illness, or may have experience of a friend or relative who does.
"Then of course there are all the children who wear glasses, have hearing aids, or who have had a broken bone or spent a little bit of time in hospital.
"During my initial book research I discovered the children living with complex needs often felt totally on outside of normal life and completely unrepresented.
"In turn, children and adults with no experience of such children found dealing with the child and their family very hard to do.
"What I gleaned from the vast reading I did was the best way would be for normality to include illness and death being acknowledged as a normal part of life from a very young age."
Over the last few months Abbey has got to know some local families and they have donated all sorts of items for Abbey to 'fit' her puppets with, from glasses to medical tubes.
"So far I've included a puppet with a tracheostomy, a wheelchair made by my husband, a wizard with a 'wriggly' – the name given to the medical chest lines children often have their cancer treatment through – and lots of characters that incidentally use glasses, or other aids, like a walking stick for example.
"We have also adapted a puppet to have a cochlear implant.
"I buy and adapt second-hand puppets – I feel like a surgeon.
"We were nervous about introducing the puppets but the classes have responded so positively to these new additions, the children's reactions and those of the adults have been really quite touching.
"All we have ever had is positive feedback."
Families from Dundee to Aberdeen have contacted Abbey with suggestions for adaptations for the puppets, with their antics enjoyed by youngsters from seven-months old to five years.
The new characters are introduced to Abbey's other family of puppets, with the story-lines and songs changing every week and inter-weaving during the sessions.
In true Abbey style, she has realised the children's responses could be replicated with the older generation.
She is hoping to use her shows to link up with those living in residential homes with nursery and schoolchildren, and is also tailoring her acts for children with autism.
She said: "I want Tick Tock to be accessible to all."
Abbey's road back to Arbroath has certainly been challenging, but it has been peppered with laughter and personal challenges.
She was able to tick off a massive challenge on her 'bucket list' – a night of stand-up in London, and she has made life-long friends in Rosemary and John Wormington, who lost their 10-year-old daughter to a brain tumour.
Their daughter, Frances, was the inspiration for Abbey's books.
"Rosemary works with Brain Tumour Support and the first time we met was the 10 year anniversary of their daughter's death.
"I wanted to do something to mark it and had always wanted to do a stand-up comedy night.
"My close friend Julie Harkin is a big casting director in London so she pulled in lots of favours with celebs and the night was full of amazing acts of professional singers and comedians who gave their time for free and meant all my friends and family who paid to come along  more than got their money's worth!
"We included some songs that had been favourites of Frances and we donated all proceeds to the Brain Tumour charity Rose now works for.
"I also did my stand up and had a ball."
The evening was hosted by Julie and Alex Carter, mostly known for his roles as Jamie Hope in Emmerdale and Lee Hunter in Hollyoaks.
Since moving back to Scotland Abbey has focussed on living life to the full and is committed in using her life experiences to make a difference across the generations.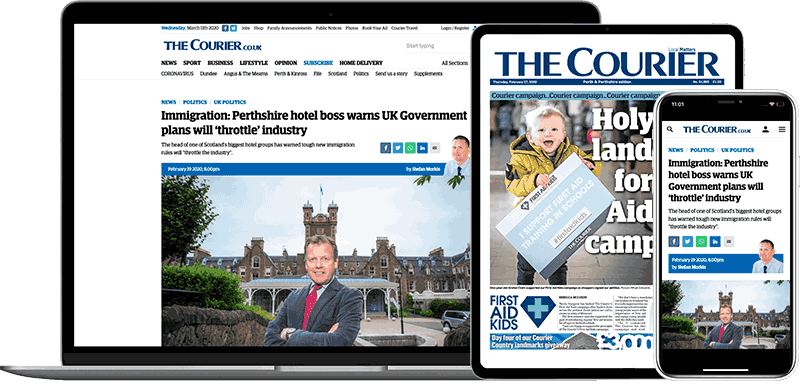 Help support quality local journalism … become a digital subscriber to The Courier
For as little as £5.99 a month you can access all of our content, including Premium articles.
Subscribe