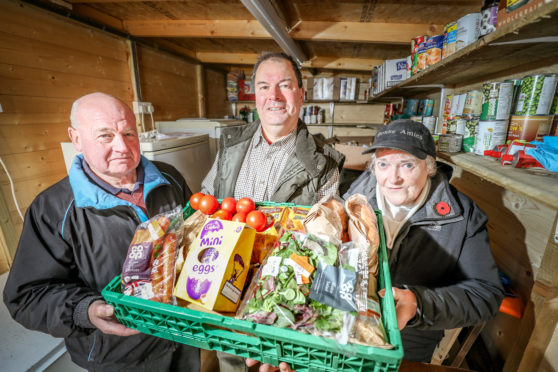 Tailor-made food parcels discreetly delivered to those in need are putting the Carnoustie branch of the Royal British Legion at the heart of the community.
Every Saturday evening volunteers from the veterans' charity pick up fresh food from Tesco in Monifieth via the supermarket's Community Food Connection scheme, run in conjunction with food charity FareShare.
The Dundee Street branch currently supports around 30 veterans, families and elderly people in the local area, with food donations also shared, free of charge, with local primary schools and other community groups.
Branch chairman David Paton said the project was administered in a sympathetic way designed to break down the stigma attached to those needing a helping hand.
He said: "Carnoustie is considered to be a relatively affluent town, but our members became aware there are veterans, families and the elderly within the Carnoustie community who need that extra bit of help with their weekly shop."
The group signed up to the FareShare and FareShare Membership last summer and within a week was taking its first delivery and arranging pick-ups from Tesco.
The branch accesses food from three avenues – Tesco, which provides surplus food free of charge; trays of food purchased for £2 each through FareShare; and from the local Co-op.
Davie said: "The numbers needing our support are expanding all the time.
"Typically, a legion member will become aware of a veteran, family or elderly person who would benefit from FareShare support.
"To reduce any possible stigma of being seen to need charity, only one person in the legion is aware of the identity of the person getting support and he or she delivers food on a weekly basis to that household."
The group also used FareShare products and other donations to invite a total of 280 elderly people to have Christmas dinner in the legion hall in the run up to Christmas.
"We are aware food parcels aren't just for Christmas, they are needed all year round," added Davie.
"Everybody really appreciates what we are doing, they are exceedingly grateful."
Tony McElroy, head of communications for Tesco in Scotland, said: "Community Food Connection is making a real difference to groups like the Royal British Legion Scotland, but we know there are more groups that could receive food from the scheme.
"This is the biggest supermarket food redistribution scheme in the UK and I'd encourage any group looking to use food in their work to discover how they could benefit."
If you could benefit from the support of Community Food Connection visit www.fareshare.org.uk/fareshare-go
For more information about how the Legion's Community Food Connection work in Carnoustie contact carnoustiesecretary@outlook.com or call 01241 854 940.