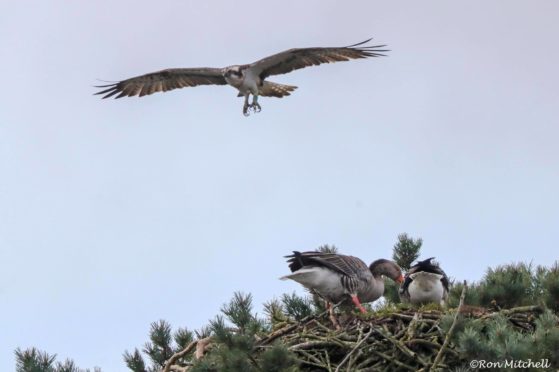 The changing of the clocks apart, recent days have brought some signs that – despite what the mercury and haar-hanging smirry rain may suggest – spring has sprung.
Beyond the ridiculous amount of roadside rubbish on the likes of the A90 Forfar to Dundee there are daffs in bloom on the edge of fields being sown and, in the beauty spot of Balgavies, Mr and Mrs Green BF are back.
They, as regular readers of these ramblings may recall, are the osprey pair who have made the Scottish Wildlife Trust reserve near Forfar their annual summer retreat, raising double figure numbers of fledglings in the process.
And who wouldn't fancy Angus as a hideaway for a summer of love?
Unfortunately, the Greens discovered envy is real when they arrived at the little loch and, not for the first time, found squatters in their island love nest after a pair of Greylag took the view that what's good for the osprey is good for the gander.
It seems residency rights may now have been restored and the romantic raptors can hopefully get down to the serious business of adding and eyass or three to their elevated eyrie.
The aerial antics and fish-hunting capabilities of these magnificent creatures is a joy, but while their arrival has lifted the heart there's been another familiar sound in the skies which isn't so welcome.
Returning to rooftops with a homing instinct second only to the marvellous ospreys, seagulls are beginning to provide their daily early morning screeching alarm call, and it won't be long until the noisy, voracious young are here, with scavenging parents dive-bombing any perceived threat.
The rats of the skies have also featured in this column before, but that was to record the misery they were bringing to Angus towns in ever-increasing numbers.
Last year's situation was among the worst I can recall.
There is an opportunity to prevent that because the other traditional sign of spring to land with me has been the Angus Council press release highlighting once again the nest and egg removal service which the authority operates.
Timing is key, because once the young are here the council is powerless to act, no matter how keen folk may be for a cull.
The service is free for owners and tenants of residential properties so I'd echo the council in encouraging folk to take up the offer.
I know I will.