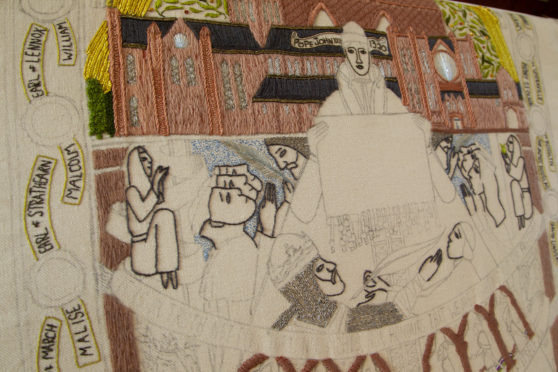 A choral work performed by 300 singers in the ruins of Arbroath Abbey will be a centrepiece of ambitious celebrations to mark the 700th anniversary of the Declaration of Arbroath.
The 2020 Committee, who are coordinating the celebrations, say plans are well under way for a year to remember.
The programme, which will run from April to September, will include major events and cultural and sporting activities, as well as projects and ideas generated through community groups.
At the heart of the season will be a major new choral work for Arbroath, composed by Paul Mealor, professor of music at the University of Aberdeen, with words provided by poet Grahame Davies.
Prof Mealor shot to fame when he composed a piece of music for the wedding of Prince William and Kate Middleton. He went on to write a Christmas number one in the form of Wherever You Are, which was sung by members of the Military Wives Choir as part of the BBC TV programme The Choir.
The Arbroath piece will be performed in the atmospheric ruins of the abbey by Angus singers at sunset on April 5 2020, before the choir tour smaller venues.
Another highlight looks set to be the Arbroath tapestry project led by Linda Taylor.
The embroidery, made up of three panels, and housed in a specially designed wooden case, will tell a medieval story of Arbroath, and will initially be displayed in the Abbey visitor centre.
Other events in the pipeline include exhibitions, performances and a schedule of tree planting across the town. Angus food and drink will also be a key theme.
Harry Simpson, chairman of the 2020 Committee said: "There has been a huge amount of work done so far, and I would like to thank everyone for their effort and enthusiasm.
"We are now just under a year away from launching the events, and there is still time for people to come along and be part of what will be an amazing experience.
"We will launch the new 2020 logo and web site in the summer, but in the meantime, if you or your choir would like to get involved please contact us through the 2020 facebook page – we would love to hear from you."
On April 6 1320, nobles from across Scotland gathered in the town's abbey and, in the presence of King Robert the Bruce, signed what has become the most iconic document in Scottish history.
The letter, sealed by eight earls and around forty barons, was addressed to the Pope in Avignon, asking him to recognise Scotland's independence and acknowledge Robert the Bruce as the country's lawful king.
The full programme will be launched at the beginning of 2020.