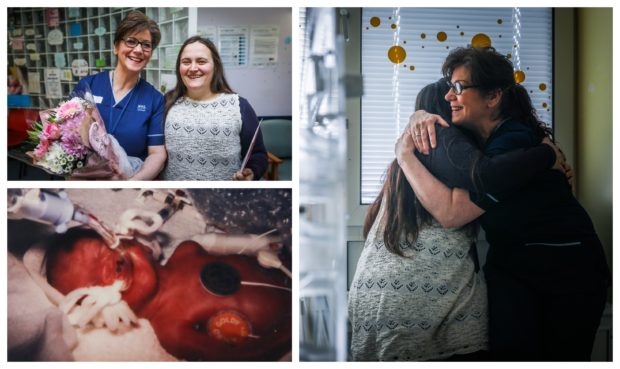 A woman who was given little chance of survival when she was born prematurely weighing less than a bag of sugar has thanked the staff who kept her alive as she celebrates her 30th birthday.
Alana Elliot marked her milestone birthday yesterday by visiting the neonatal staff who nursed her in the special care baby unit at Ninewells Hospital in Dundee.
She was born prematurely on April 10 1989, weighing only 1lb 8oz. Her due date was August 6.
One of the student nurses on the ward at the time was Alison Findlay, and the pair met up again yesterday.
The two women have kept in touch over the years, with Alana visiting the ward when she was 16 and then two years ago when she took along her own son, Torin, who was born in 2015.
Yesterday, she was accompanied by her mum, Pauline, who was living in Arbroath at the time and now stays in Glen Lyon in Perthshire.
She spoke fondly of life-saving work at the SCBU and the dedicated staff who helped keep her tiny baby alive.
She said: "Alana was born when I was 23 weeks pregnant. At that time that was very early.
"I was lucky they had all the specialists there the day Alana was born. There were quite a lot of people, lots of students, two midwives, various doctors and specialists.
"When the specialists heard I was in labour they scanned me and decided to try to save the baby.
"There was a real risk I would lose the baby, she was on life support for a while and was fed through her umbilical chord for a few days. They then put a splint in her arm to help with feeding and she was then fed through a tube in her tummy using a tiny syringe.
"Her weight dropped down to 1lb, she was so tiny and her skin was transparent. When she was first born she was on a breathing respirator – there were a couple of scary moments."
Pauline spent two weeks at Ninewells but had to move back home as the hospital needed the room.
She travelled up and down daily, with Alana eventually strong enough to go home when she was three months old.
Now a mum herself and living in Aviemore, Alana appreciates the care she received and the effort the nursing staff put in to keeping her alive.
When she was 16, she presented £300 to the ward after completing a sponsored cycle.
It was then she met Alison, the former student nurse who is now senior charge nurse/midwife on the ward.
She said: "Without their care and attention I wouldn't be here."
As a token of her appreciation she presented another £100 yesterday to be used in the ward.
Alison said she was "thrilled" to see Alana and to learn how she is getting on.
"I had the privilege of caring for her 30 years ago when she was an extremely premature baby," she said.
"I was a new midwife undertaking my speciality neonatal care course.
"My case study for my course was centred around Alana and her birth and subsequent neonatal journey.
"Alana's neonatal journey was an overwhelming experience at the time and seeing her reach such celebrative and momentous life milestones still fills me with pride and joy.
"She is someone I hold very close and dear to my heart."
The Neonatal Intensive Care Unit (NICU) at Ninewells Hospital achieved Unicef Baby Friendly accreditation in August last year.
Alison continued: "Having this award recognises their commitment and dedication to the babies and parents in their care.
"Staff in the neonatal unit have tremendous pride in their work and their engagement and enthusiasm is something I am very proud of."