Angus man Steve Donaldson's spinal cord was severed in two places by sharp force blows which caused his death and could have been inflicted by an axe or machete, a High Court jury has been told.
In graphic evidence on the eighth day of the Edinburgh trial against a woman and two men accused of murdering the 27-year-old Arbroath oil worker, a forensic pathologist detailed the extent of horrific injuries found on Mr Donaldson's charred body after it was discovered at Loch of Kinnordy nature reserve, near Kirriemuir on June 7 last year.
The trial was briefly halted when a male juror collapsed after the jury was shown photographs of the injuries, which had included numerous deep stab or incision wounds to Mr Donaldson's head, neck, body and legs, a broken jaw and badly-burned lower limbs.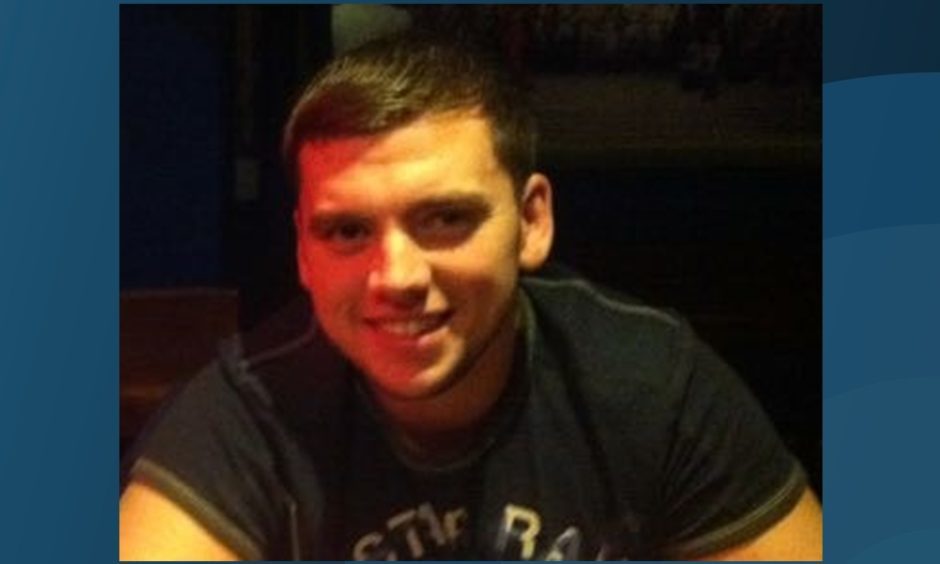 Dr Helen Brownlow, of Dundee University, also told jurors that wounds which had cut both of Mr Donaldson's hands through to the bone could have been inflicted as he was trying to protect himself.
Stab wounds on his legs might also have resulted from him pulling them up towards his torso in defence.
The Edinburgh jury had previously been given evidence confirming sharp force injuries as Mr Donaldson's cause of death and Dr Brownlow said he had suffered blows to the back of the neck which cut through the neck bones and severed the spinal cord in two places — injuries she said would lead to immediate death.
"The wounds were complex and lie on the same plane, so they are overlapping each other," said the witness.
"It's possible there were more but earlier ones had been obliterated by later blows. There were at least six in this location of the body."
She said they could have been caused by a sword, machete, cleaver or axe.
Detailing the hand injuries, Dr Brownlow told the court: "Those type of injuries could be caused by individuals putting up their hands to protect themselves from blows. We tend to refer to them as defence injuries, to try and block a strike from a blade or instrument."
Two deep stab wounds to the victim's torso, which were among eight found on that part of the body, punctured his lungs.
The autopsy also found eight stab wounds on Mr Donaldson's left leg and the witness told the court: "It is possible that they may have been caused by the accused attempting to shield himself from blows.
"In previous cases I have seen victims trying to pull their knees up towards their torso to protect themselves from sharp force injury."
The witness also said she could not rule out the possibility burn injuries to Mr Donaldson's head and body were the result of an attempt to set fire to the body.
Toxicology tests showed no traces of either alcohol or drugs in Mr Donaldson's body, the trial heard.
In cross-examination by Dickie's defence counsel, Ian Duguid QC, Dr Brownlow said there was no way of telling whether Mr Donaldson would have been conscious or unconscious when any of the other injuries were inflicted prior to the fatal severing of the spinal cord.
Mark Stewart QC, for Glass, suggested to the witness: "There is nothing to suggest, pathologically, that all these injuries were inflicted anywhere other than this locus?", to which Dr Brownlow replied: "Yes."
The trial continues.
THE CHARGES
The charge faced by the accused Steven Dickie, Callum Davidson and Tasmin Glass  alleges that between June 6 and 7 2018 at the Peter Pan playpark, Kirriemuir and Loch of Kinnordy nature reserve car park, they assaulted Mr Donaldson and arranged to meet him with the intention of assaulting him, and once there repeatedly struck him on the head and body with unknown instruments whereby he was incapacitated, and thereafter took him to Loch of Kinnordy where they repeatedly struck him on the head and body with a knife and baseball bat or similar instruments, repeatedly struck him on the head and neck with an unknown heavy bladed instrument and set fire to him and his motor vehicle, registered S73 VED, and murdered him.
Dickie and Davidson face four other charges including one of behaving in a threatening manner towards two men between January 2014 and June 2018 by making threats, following them on foot and in a motor vehicle, presenting weapons and acting in a threatening manner.
They are also charged with putting a kitten in a bag in Main Street, Lochore, Fife on an occasion between February 1 and May 31 2017, swinging the bag about and punching and kicking the kitten; behaving in a threatening manner towards a man in St Malcolm's Wynd, Kirriemuir and elsewhere between December 1 2017 and February 28 2018 by following him on foot and in a vehicle, and threatening him with weapons.
Both also deny following and staring at a woman and kicking her car in Kirriemuir between August 1 2017 and April 31 2018.
Davidson faces a further charge of assaulting a man between June 1 2017 and December 31 2017 at a house in Glengate, Kirriemuir by pushing him to the floor and threatening to punch him.
Dickie is also accused of assaulting a woman at the Ogilvy Arms pub in Kirriemuir between February 1 and 28 last year by seizing her by the wrist and neck and threatening her with violence.