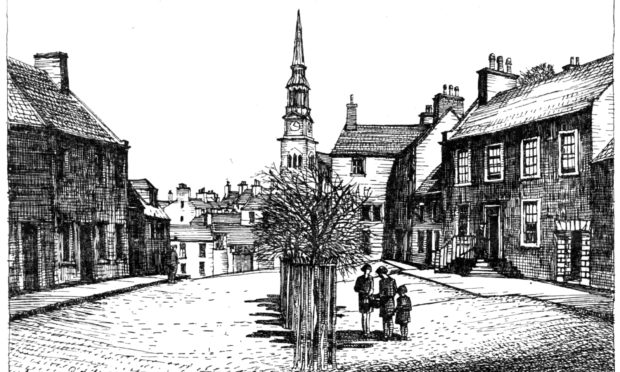 A phalanx of special constables was drafted in to Forfar to keep order at the hanging of killer Margaret Wishart.
Revelry and boisterous condemnation had been anticipated from the crowd of thousands gathered to witness such a rare event.
However, remarkable decorum was shown by the spectators who had filed into Forfar from surrounding towns and even from Dundee.
There was no baiting the condemned woman, as was common at public executions in Scotland, and the crowd dispersed more in sorrow than celebration.
Instead, the execution bequeathed a legacy of sadness on the community, despite the compassion poured upon Wishart during her days on death row.
Our newspaper archives record her demise and a more detailed account is contained in a book by Alexander Lowson.
Wishart, born in St Vigeans, outside Arbroath, was a woman in her mid 40s who lived in Arbroath with her blind sister Jean and her sister's illegitimate son. She was well liked locally and said to be of honest and sober character.
By October 1826, Jean was pregnant again. On the 6th of that month, Margaret gave Jean porridge laced with arsenic. Within half an hour, Jean had taken ill and was soon delivered of a son.
The boy was healthy enough but his stomach soon began to swell and within three days he was dead. Jean followed him to the grave within hours.
Margaret was the only suspect and stood trial at the circuit court in Perth.
She denied the charges. There were 13 witnesses for the prosecution and three for the defence.
The advocate depute on behalf of the Crown asked for a guilty verdict and Wishart's defence advocate, the Hon. Leslie Melville, called for a verdict of not proven.
After the closing speeches, the judge addressed the jury for more than two hours.
Jury chancellor John Collier then arose to declare her guilty of murdering her sister. The charge of murdering the baby was found not proven.
Wishart collapsed in tears at the verdict and those who knew her said she had lost so much weight during her time in custody she was barely recognisable.
Wishart was held for a fortnight in Perth before being moved to Forfar. Written records of her time in custody show she received a level of care and attention we may not normally associate with the period.
In Perth, a women's religious society brought her cheer and spiritual comfort before her removal to Forfar jail on April 23.
There, ministers Mr Clugston, Mr Eadie, Mr Lindsay of Letham, and several other clergymen attended to the condemned woman.
As Margaret Wishart began to show signs of mental deterioration, four women emerged from the community to take turns to sit with her day and night.
The records recall that late in her incarceration, Wishart's sisters paid their last visit and the emotional pain of that farewell holds potency today. One who witnessed the sisters' parting reported "their lamentations surpassed description". Supporters of Wishart organised an extra-judicial examination in Arbroath but nothing could be found to clear the prisoner.
On the night of June 15, Wishart rested poorly but just before dawn she fell into a comfortable sleep.
The authorities allowed her to lie until 10am when she was roused, fed and allowed to wash.
The remainder of the forenoon was spent with clergymen in devotional worship. She acknowledged her failings and sought redemption through Christ.
At 2pm Margaret Wishart embarked on her final journey. She entered the town hall supported by Mr Clugston and accompanied by the provost, bailies and other clergymen.
Mr Clugston read from Psalm 51 and, after resting a little, the prisoner signalled her readiness to ascend the platform which had been erected outside an upper window.
Wishart shook hands with the provost and ministers then sat on a chair on the platform while a hymn was sung and Mr Clugston offered up a prayer.
It was then the executioner stepped forward. He took away the woman's ruff, placed a rope around her neck and put a covering on her face.
There she sat in darkness with the tool of execution brushing her skin.
Wishart spent a full 20 minutes in prayer before she was launched into eternity at 3.20pm.
Her body was later sent to Edinburgh for use in medical science.
Back in Arbroath, a ridiculous legend grew up that Margaret Wishart haunted the house where the killing took place. While few took the story seriously, the mystery remains as to why she did kill her sister.
Wishart was found guilty and maintained her innocence so no plea in mitigation was given.
It is possible she saw her deed as an act of mercy to protect a sister she felt had been used by unprincipled men, or maybe she was indeed innocent.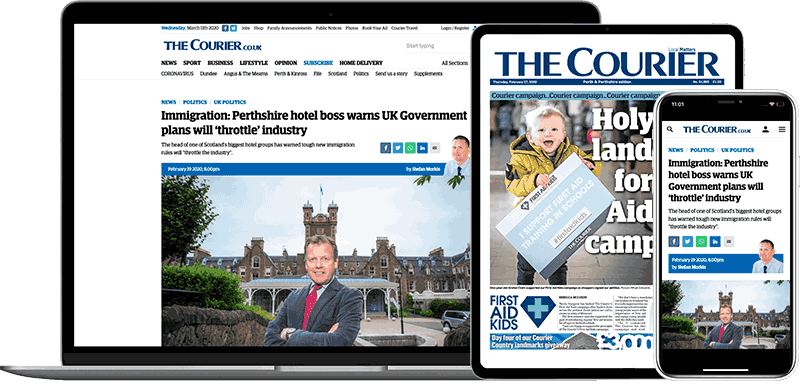 Help support quality local journalism … become a digital subscriber to The Courier
For as little as £5.99 a month you can access all of our content, including Premium articles.
Subscribe