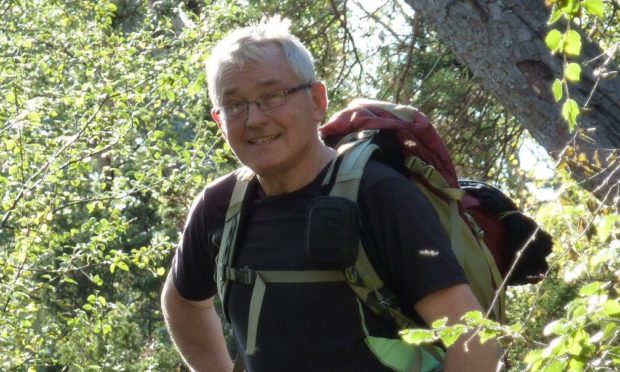 Well-known Tayside solicitor Kim Miller has died suddenly in Ninewells Hospital in Dundee at the age of 70.
Kim ran his own practice in Forfar, alongside his wife Iris, for over 30 years.
Born in Glamis, he was the only son of Dr JB and Dr Catherine Miller who moved to Angus from the west coast.
The family moved to Forfar when the couple took over a surgery in Rosebank Lane which was attached to the family home.
Kim was their only son and had three sisters – Ann, Deirdre and Teena.
He attended the local primary school and Forfar Academy before going on to study medicine at St Andrews University.
On entering second year he decided to change direction and moved to Dundee University to study law.
After graduating he completed his apprenticeship with family friend Douglas Whyte of MacHardy Alexander & Whyte in Forfar.
He married Iris in 1974 at Glamis Church and  the couple moved to Edinburgh where Kim got a job as a legal assistant before becoming a partner in the firm.
The couple returned to Forfar to set up Miller & Company in 1978, firstly at 2 Castle Street before moving to offices in the former County Hotel and latterly at West High Street  Forfar.
It was the first new solicitors' business in the town for many years.
He built up a strong reputation in the town as a respected family solicitor over the years and carried out a lot of work for the Wester Restenneth Development Company in the town before he and Iris retired in 2010.
The couple were inseparable during their married life and enjoyed hillwalking together.
They completed a number of long distance walks in the Alps, including the Tour du Mont Blanc the GR5 Geneva to Nice and many more long distance treks.
They also enjoyed skiing in the Alps and more recently took up Scottish country dancing.
They attended classes in Forfar, Kirriemuir, Dundee and Arbroath and were members of The Fife Reelers.
Kim was a well-known figure who was often seen cycling around the town.
He was a keen gardener and member of the Results Fitness Gym in Forfar, which he attended three times a week.
He was also a talented writer, attending various writing retreats and wrote a crime novel.
Kim died on Tuesday and details of his funeral have yet to be confirmed.