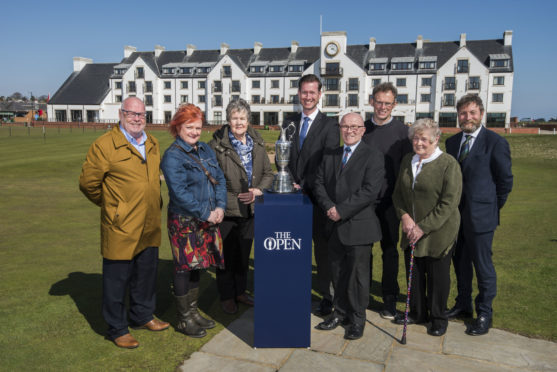 Carnoustie community projects are set to benefit from a £100,000 windfall from The Open Legacy Fund, after hosting the 147th  championship last year.
The fund supports projects and programmes that will have a positive and lasting impact on the host venue.
Local organisations were encouraged to bid for a share of the cash, and a local panel, chaired by Carnoustie councillor David Cheape, and including representations from community groups and Carnoustie High School recommended the projects to The Royal and Ancient Golf Club of St Andrews (The R&A).
The successful recipients of the legacy funding are Colourful Carnoustie, The Fairy Steps Trail, Cycling Without Age and Friends of Barry Mill.
Colourful Carnoustie's funding will go towards the upgrade and refurbishment of the Carnoustie Rest Garden in Links Parade and to improve the attractiveness and welcome of the railways station and cycle path and grounds at Links House.
The Fairy Steps Trail project aims to reinstate the path, the steps themselves and the bridge over Craigmill Burn.
Cycling Without Age will be led locally by Carnoustie Befrienders and Carnoustie Memories as part of a national programme supported by Scottish Government to help  transform the lives of older people, re-engaging them with the outdoors through trips in trishaws piloted by local volunteers.
Friends of Barry Mill will use their funds to improve the biodiversity of the Barry Burn and surrounding area.
Johnnie Cole-Hamilton, executive director for championships at The R&A said: "We have worked closely with our partners in Angus to identify community initiatives which will positively enhance the town of Carnoustie and provide benefits for its residents to enjoy in the years to come.
"We want to leave a lasting legacy for the local environment and communities in which The Open is staged and we look forward to seeing the results of the funding we have provided to the successful applicants."
A record 172,000 spectators visited Carnoustie to attend The Open last year, generating significant economic benefits for the region and attracting world-wide coverage.
Angus Council leader David Fairweather said: "The standard of the projects that entrants put forward for funding was extremely high and I'm sure that all of them would have been of benefit to Carnoustie.
"I am delighted with the choices made by the local panel and The R&A."