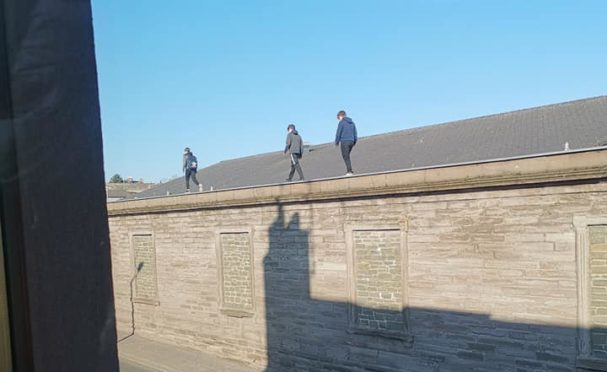 If it wasn't so serious, it would have been an image which I could have joked about giving me the heebie jeebies as someone who's discovered that as the years rise, a capacity to cope with heights falls at a corresponding rate.
But the social media image of young clowns clambering the roof of Forfar's shut down Clydesdale Bank was a shocker.
Other photos emerged last week of teenage spiderneds walking, with apparent nonchalance, along an old Brechin factory wall, with further reports that the issue seems to be part of a growing craze.
Rightly, they were condemned for putting themselves and others at risk, and for their idiocy to be described as dicing with death wasn't stretching it.
Police are investigating and, with luck, if the perpetrators are daft enough to take their lives in their hands on a town centre rooftop then they'll maybe also be sufficiently stupid on the selfie front to put the evidence out there which will only land them in bother with the law – and not on a concrete pavement storeys below with potentially fatal consequences.
Hopefully, the end of the school holidays next week might also play a part in curbing the dangerous nonsense.
Similarly, in another corner of Angus, there's been a sigh of relief that the spring break didn't bring with it a feared spike of irresponsible neddery.
Strathmartine Hospital has been blighted by trouble for years, with the old buildings becoming a magnet for fireraising young vandals, whose behaviour has turned the site into a hotspot on the Scottish Fire and Rescue Service report sheets.
The problems haven't been completely extinguished, but a concerted action plan and the input of a number of agencies has definitely improved the situation.
But, as long as Strathmartine remains undeveloped and impossible to properly secure, the risk it poses to youngsters who shouldn't be there will remain.
That's why it was encouraging to see another sprawling disused Angus hospital – Sunnyside, near Montrose – given the green light for residential conversion, and a pledge from its developers to get boots on the ground soon.
Sunnyside hasn't escaped the issue of uninvited guests, so the quicker the better for construction works to start which might prove a deterrent to folk going up there for an illegal rake around.