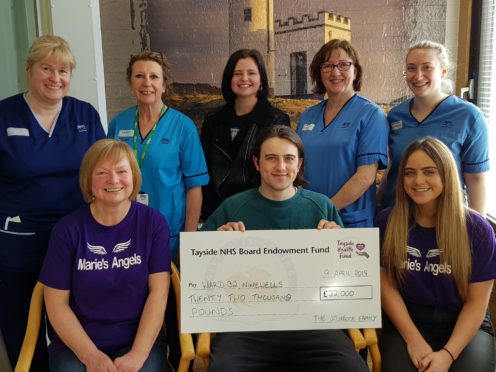 A family have ensured a late Angus woman's legacy lives on at Dundee's Ninewells Hospital.
Marie Fenton from Carnoustie died in the Hospital, aged 50, in October, two years after being diagnosed with rare cancer of the appendix.
When diagnosed, the former head teacher was given six months to live but did not let her illness get her down and started fundraising for a cool cap machine for ward 32.
When she passed away her family continued her fundraising efforts and have now raised £22,000.
Marie's daughter Suszi said: "Our mum wanted to raise money for the ward 32.
"She organised a raffle and BBQ. Unfortunately she passed away two weeks later.
"We wanted to continue her fundraising. We had no idea we would raise so much money.
"There was a collection at my mum's funeral and many people kindly made a donation. Lots of people from the local community and businesses kindly donated prizes.
"My mum was a teacher and a lot of schools in Angus and Dundee held fundraisers and donated half of the money they raised to us.
"Staff at the local health centre decided not to send Christmas cards and instead donated to us.
"We also had a sponsored walk. We walked approximately 13 miles from Caledonia Health and Fitness gym in Carnoustie to Ninewells Hospital.
"Lots of people wanted to help and we are very grateful to everyone.
"I would like to say a huge thank you to everyone who shared our social media posts and to everyone across Tayside and Fife who donated to the justgiving page and donated prizes for the raffle."
Marie was born in Coatbridge but moved with her parents to Aberdeen when she was two.
She studied fine art at Duncan of Jordanstone in Dundee and for many years ran her own fine art firm in Carnoustie, MTF Design.
She trained to be a teacher and taught at St Thomas Primary School, Arbroath, before moving to become head teacher at St Margaret's Primary in Montrose four years ago.
Marie's cancer of the appendix was diagnosed in December 2016.
Marie's son Mickey said, "Our mum was full of life. Throughout her illness she was so positive and kept everyone's spirits up. The week before she passed away she was decorating the house and fixing the roof.
"She didn't let the cancer control her, she controlled the cancer. She was not a cancer sufferer she was a fighter. If she was ever upset or in pain, she didn't show it. She is an inspiration to everyone."
Accepting the donation, ward 32 senior charge nurse Alison Inglis said, "Many patients experience great concern over the possibility of hair loss during what is already a distressing time.
"Scalp cooling provides the only real alternative to hair loss with the use of many chemotherapy drugs.
"Being able to retain their hair means their body image is preserved and they can retain some sense of normality.
"Scalp cooling lowers the temperature of the head and scalp immediately before, during and after administering chemotherapy. This reduces the blood flow to the hair follicles preventing or minimising damage.
"We currently have two cool cap machines in the department, however due to increasing capacity there is a greater demand for its use."