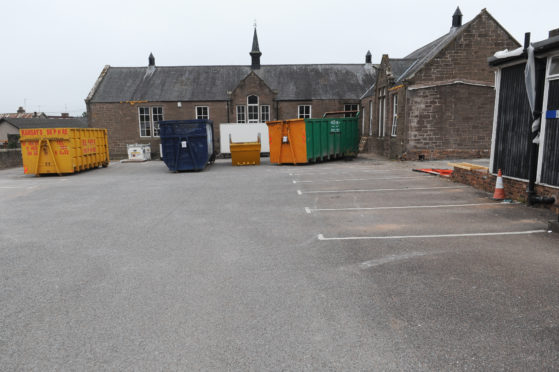 Campaigners who fought to save a community facility from the bulldozers have rounded on Angus Council after the public purse was hit with a demolition bill of almost four times the estimated cost.
As work began on Monday for the £2 million project to build ten affordable local authority houses on the site of the former Damacre community centre in Brechin, it emerged the discovery of asbestos on site has seen the estimated £70,000 demolition cost rocket to £263,520.
Local campaigner Mark Arbuthnott, who criticised the housing plan as "opportunistic and of very little strategic value to the Brechin population", slammed the latest figures which were revealed in a Freedom Of Information request.
He said: "During the original planning meeting demolition costs were quoted as being in the region of £70k – this was then hastily upped to £100k.
"The community warned the planning committee about the presence of asbestos and now we see the final cost for demolition will be over £263k.
"This represents over half of the £500k Scottish Government grant for the project.
"The final cost for this fiasco will be in excess of £2.25 million which seems excessive, to put it mildly, to build 10 small houses, and we are led to believe this council is cash-strapped."
Jill Scott, chairman of Brechin Community Council questioned how the project could be "good value for money".
She said: "There are so many people on the housing list, either homeless or inadequately housed.
"It goes without saying council houses should be built to a high standard. £200k approximately per house, which may not be the final cost, seems excessive.
Brechin resident Andy Wilson was "flabbergasted" at the latest figures.
He said: "These figures were certainly not mentioned in the planning stages otherwise I am sure even the councillors would have objected.
"On the houses themselves they must be the most luxurious social housing around at roughly £200k each to build."
An Angus Council spokesman said: "When complete, each property will provide a safe and secure high quality home available for rent by Angus Council tenants – homes on a previously underused site people can be proud to call home.
"This excellent new development will provide Brechin with much-needed affordable housing and improve the town centre by re-purposing an empty brownfield site.
"The £2 million project has not been without challenge and the investment required to regenerate our communities is not insignificant.
"Re-using sites such as this can be complex and will present some not unexpected difficulties. In this instance, additional asbestos was discovered during the demolition of the old Damacre Centre site.
"But the council is committed to doing all it can in making Angus a great place to live, work and visit, including leading the regeneration of areas through housing."