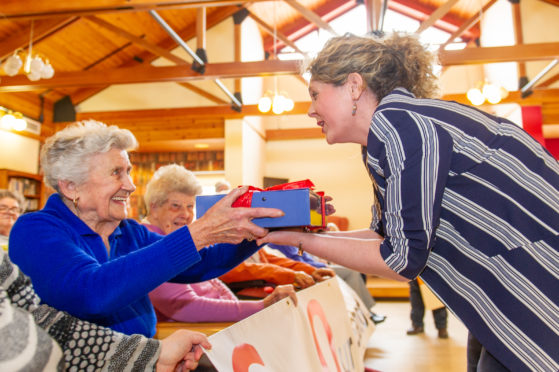 A 4,000-name petition, calling for a pledge to save a popular care home has been handed over to Angus health bosses.
Campaigners began collecting signatures when it was revealed that the future of Seaton Grove in Arbroath was under review.
Management say no decision has yet been made, but residents have said they want to be allowed to live out their lives at Seaton Grove without having to "worry about having a roof over our heads."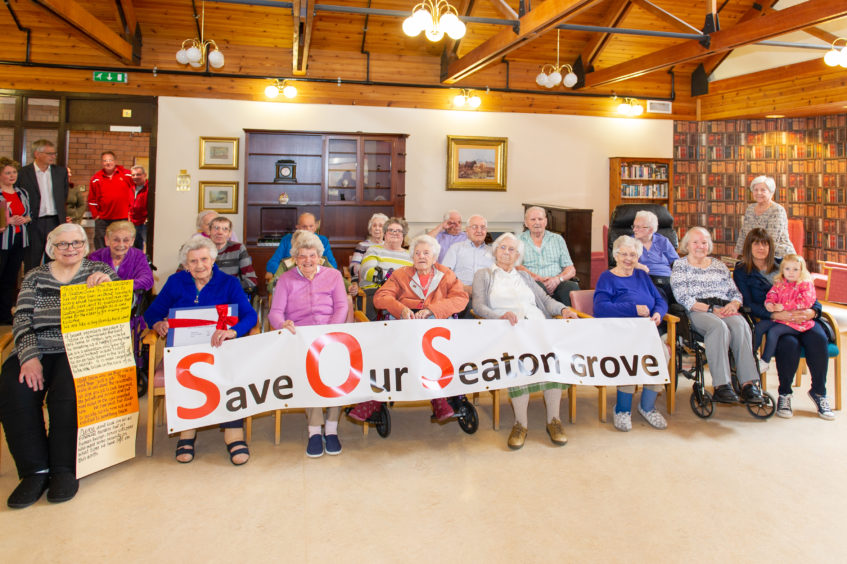 In a bid to balance the books, management have outlined possible outcomes for the unit which include closure, or handing it over to a private or third sector organisation.
A reduction in provision is also on the table.
Carers and members of the public reacted with fury at the news, and launched a campaign led by Friends of Seaton Grove to keep the unit.
Speaking after the handover to the Angus Health and Social Care Partnership (AHSCP), Friends of Seaton Grove chairman Ian Angus said: "This sends out a clear message about the strength of feeling and the tremendous support for Seaton Grove throughout the local community.
"While collecting signatures, we heard many accounts of local families' first-hand experience of the high standard of care provided for relatives over the last 30 years."
A decision on Seaton Grove is expected in June, and campaigners have vowed to continue the fight.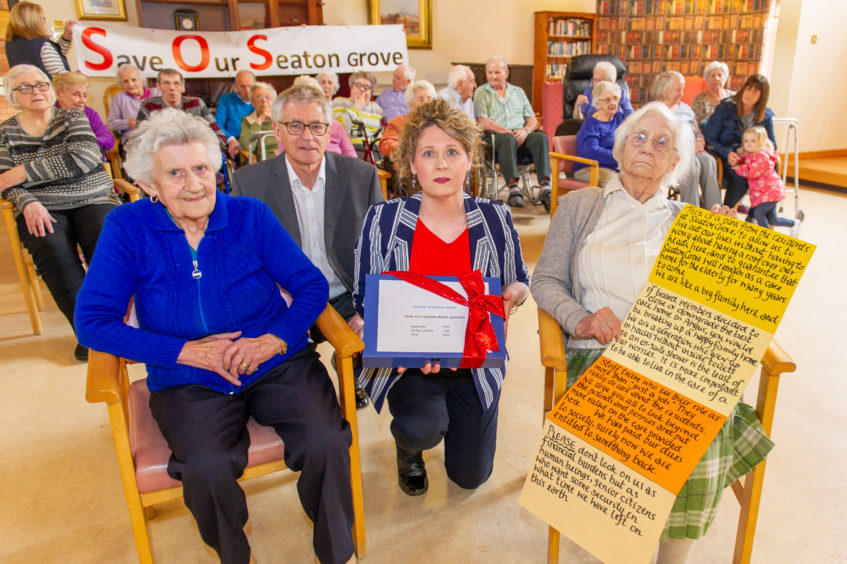 Independent councillor Lois Speed, who chairs the Angus Integration Joint Board for the Health and Social Care Partnership which runs Seaton Grove, stressed that no decision has been made.
She said: "The Angus Health and Social Care Partnership's review of residential care for older people in Angus is presently ongoing.
"Its purpose is to consider the quality of care provided across the service, the most efficient and effective models of service delivery, including the suitability of premises, and how we can best apply our financial resources.
"The opinions and, indeed, feelings of service users will not be lost in this review, not least when it comes to considering Seaton Grove's future. We want to hear from and work with service users, their families and local communities, every bit as much as we do from trade unions, elected members and other stakeholders.
"We know how valued Seaton Grove is by the people of Arbroath and I assure them that no decisions have been taken by the Angus Integration Joint Board in advance of this review process. When any decision is reached, our service users and their families will be among the first to know."
The statement issued by the residents: 
This is a plea to allow us to live out our lives here without having to worry about having a roof over our heads and to guarantee that Seaton Grove will remain as a care home for the elderly for many years to come.
We are like a big family and if board members decided to close or downgrade the best care home in Angus, you would be breaking up a happy home.
We are a generation that grew up in houses without an inside toilet so an en-suite shower is the least of our worries.
It is more important to be able to live here in the care of a staff team who see it as more than just a job. They really do care about residents.
We the residents, urge you to look beyond just pounds, and pennies and put more value on the care provided here.
We have paid our dues to society.
Surely now we are entitled to something back.
Please don't look on us as just a financial burden but as human beings, senior citizens who just want some security in whatever time we have left on this earth.