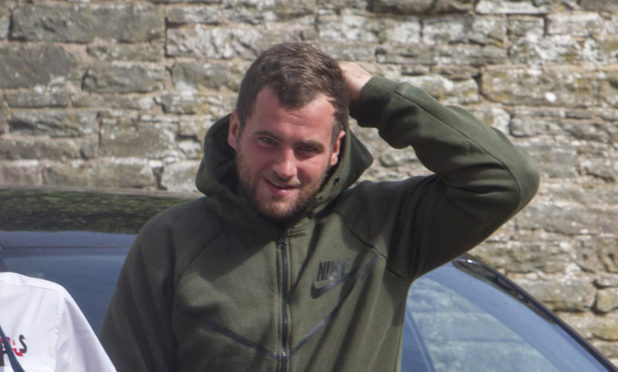 An Angus murder accused has denied cutting the throat of a man he is accused of killing after getting into the back of his car at a Kirriemuir children's playpark.
On a third day in the box at the High Court in Edinburgh to give evidence in his own defence, Steven Dickie repeated denials he had been in the BMW of Arbroath man Steven Donaldson at Kirrie Hill on the night of June 6 last year.
Dickie was giving answers during continued cross-examination by Crown prosecutor Ashley Edwards QC about the events in the hours before the 27-year-old oil worker's charred and beaten body was found beside his burnt out 1 Series BMW at Loch of Kinnordy nature reserve on the outskirts of the Angus town.
Dickie earlier told the court he went to Kirrie Hill with best pal and co-accused Callum Davidson after a plan to give Mr Donaldson a "roughing up" had been discussed with the third accused in the murder case, 20-year-old Tasmin Glass.
He has also told the jury the last he saw of the white BMW was when it left the car park, with Davidson's legs hanging out the driver's window.
Steven Donaldson murder accused denies prison cell boast of killing 'the boy' and £10k offer to best pal to take rap
The advocate depute said: "The reality is that you got in the back of the car and that's how you and Callum Davidson were able to take Steven Donaldson away. You held him at knifepoint and that allowed Callum Davidson to drive the car?"
"No," responded the accused, denying he had cut Mr Donaldson's neck with the knife.
Dickie was then asked: "How did Callum Davidson manage to take Steven Donaldson on his own and drive the car, how is that possible?"
The accused responded: "He's a strong lad, anything's possible."
It was put to the accused: "When you got to Kinnordy, did he (Mr Donaldson) run, up to the edge of the car park?"
"I don't know," said Dickie.
The advocate depute continued: "When you and Callum Davidson chased after Steven Donaldson did you catch him at the car park entrance and then the two of you dragged him back to the car?"
"No," replied the accused.
"You are telling the ladies and gentlemen that you had a plan, but for some reason when you got to the top of Kirrie Hill you stood back?" – continued the advocate depute.
"I'm not a fighter," replied Dickie.
The trial continues.
THE CHARGES
The charge faced by the accused Steven Dickie, Callum Davidson and Tasmin Glass alleges that between June 6 and 7 2018 at the Peter Pan playpark, Kirriemuir and Loch of Kinnordy nature reserve car park, they assaulted Mr Donaldson and arranged to meet him with the intention of assaulting him, and once there repeatedly struck him on the head and body with unknown instruments, and thereafter took him to Loch of Kinnordy where they repeatedly struck him on the head and body with a knife and baseball bat or similar instruments, repeatedly struck him on the head and neck with an unknown heavy bladed instrument and set fire to him and his motor vehicle, registered S73 VED, and murdered him.
Dickie and Davidson face four other charges including one of behaving in a threatening manner towards two men between January 2014 and June 2018 by making threats, following them on foot and in a motor vehicle, presenting weapons and acting in a threatening manner.
They are also charged with behaving in a threatening manner towards a man in St Malcolm's Wynd, Kirriemuir, and elsewhere between December 1 2017 and February 28 2018 by following him on foot and in a vehicle, and threatening him with weapons.
Both also deny following and staring at a woman and kicking her car in Kirriemuir between August 1 2017 and April 31 2018.
Davidson faces a further charge of assaulting a man between June 1 2017 and December 31 2017 at a house in Glengate, Kirriemuir, by pushing him to the floor and threatening to punch him.
Dickie is also accused of assaulting a woman at the Ogilvy Arms pub in Kirriemuir between February 1 and 28 last year by seizing her by the wrist and neck and threatening her with violence.