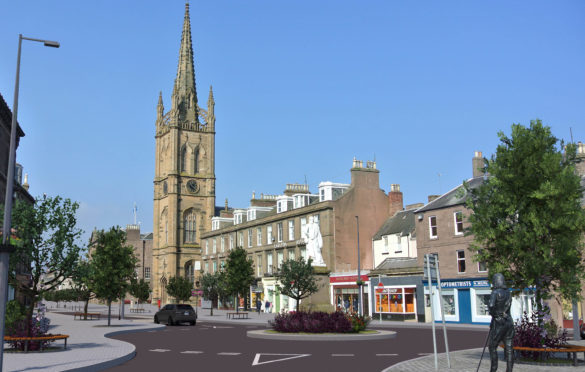 Plans to revive the "tired and worn down" Montrose High Street are going out to public consultation.
The Mo Revival group, together with Angus Council's communities team, are hosting a public open event at 51 High Street from Monday.
The event will give people the chance to view and comment on proposals that have been put together to give the High Street a new lease of life.
A spokesman for the Mo Revival group said: "Our local volunteer group came together following the Angus Council charette which invited the people of Montrose to have their say on issues they felt were at the heart of our community.
"The main focus that came from the event was the state of the High Street and town centre down to the train station area in general.
"We are hoping to address these issues and try to make the High Street a more pleasant and prosperous place for our community to spend time in.
"This is especially true now we know the Playhouse will be opening within the next year or so which we would like to see as a catalyst for an economic and tourism boost for the town centre overall."
The group is looking for as many people to give their input as possible so the comments can be taken on board and shape the project going forward.
The proposals include a radical change to the High Street layout which currently gives over 70% of its space to cars.
The layout would change to give 70% to pedestrians by reducing the width of the roads to a single carriageway for north and south; parking to each side and greater pedestrian zones for markets, events and to encourage a café culture along the historic High Street.
There are several other proposed changes including the route from Hume Street to the train station, Peel Place, the Port, the High Street Piazza and Hume Street itself.
The team's one rule is that if people have a criticism of these plans created by local volunteers, then they are asking for the presentation of an alternative to be considered.
The group comprises of several local people, local councillors and business owners and they have already had a consultation with local shop keepers to gauge their opinions.
Two local architecture practices are involved in developing the plans – Kerry Smith Architects and John D Crawford Ltd and together with local man David Smith they have spearheaded the group from its inception following the charrette.
The shop at 51 High Street will be open on Monday from 9am-1pm; Tuesday from 9am to 3pm and 5pm-7pm; Wednesday from noon-5pm; Thursday from 9am-5pm; Friday from 9am-noon; and Saturday May 4 from 9am-3pm.
Other dates going forward will be available on the group's Facebook page.