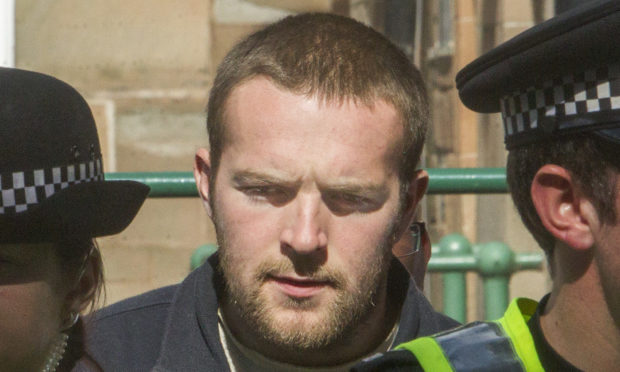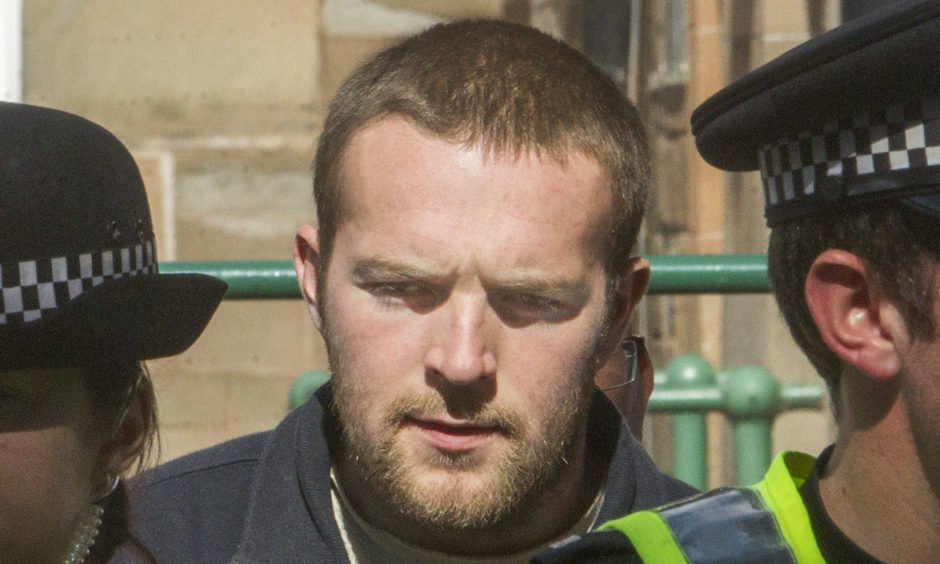 Murder accused Callum Davidson has admitted putting on a show for the cameras in a 2am bike ride through an Angus town as his alleged victim's battered corpse lay beside his smouldering BMW at a nearby beauty spot.
The 24-year-old farmhand was captured on CCTV in Kirriemuir just hours before Steven Donaldson's body was found at the Kinnordy nature reserve.
In the witness box at the High Court in Edinburgh yesterday, Davidson said he had gone there under the orders of co-accused Steven Dickie — but denied it was to "clean up" a murder scene.
Jurors also heard Dickie, 24, had bragged to a fellow prisoner that he stabbed Mr Donaldson 26 times – the exact number of wounds revealed in an autopsy report – when the pair were in a cell together at Perth.
Davidson, Dickie and a third co-accused Tasmin Glass, 20, all deny murdering Mr Donaldson on June 6 or 7 2018.
The trio are accused of assaulting the 27-year-old oil worker from Arbroath at the Peter Pan children's play park in Kirriemuir.
Prosecutors allege they then took him to the car park at Loch of Kinnordy where he was beaten, before his body and his car were set on fire.
Giving evidence in his own defence for a second day, Davidson rejected a suggestion by Dickie's defence counsel, Ian Duguid QC, that he was a "gratuitously violent man" who would get involved in violence for no reason.
However, he told Crown prosecutor Ashley Edwards QC he had hit Mr Donaldson three times at the Hill, before Dickie stepped in.
The trial has heard the pair went there after Glass had arranged to meet Mr Donaldson, her ex-boyfriend.
On the 17th day of evidence yesterday, the court heard Dickie, who was in a relationship with Glass, then ordered him to drive the oil worker's BMW to Kinnordy.
Jurors were told Mr Donaldson was in the back, covered in blood after a frenzied attack by Dickie, who had a knife.
"Did Steven Donaldson start to come to, to fight back?" asked the advocate depute.
Davidson said: "The whole time he was shouting, the two of them were shouting at each other and Steven (Dickie) would hit the other lad to keep him quiet.
"I thought he had died through the time I was driving," he said.
Davidson denied he had collected a weapon from his Ford Ranger parked elsewhere in Kirrie as he and Dickie made their way to the Hill to meet Mr Donaldson, or that he had used it at Kinnordy.
"You were standing next to Steven Dickie assaulting Steven Donaldson with your axe or machete?" suggested the advocate depute.
"No, incorrect," replied the accused.
Davidson has told the trial he fled from the nature reserve car park before Dickie beat Mr Donaldson with a baseball bat, but admitted he went back there on his bike to try to find the broken weapon.
"When you went back to the car park did you see Steven Donaldson's body?" the prosecutor asked.
"The tyres were still burning but there wasn't enough light to see that," said Davidson.
Asked about the town centre CCTV footage, he said: "Steven knew I had to get past the cameras so I was to act normal."
Under re-examination by his defence counsel, advocate Jonathan Crowe, Davidson accepted he and best friend Dickie had been a "team".
Mr Crowe said: "There comes a point in any team where the rules of the game are gone beyond?"
"That was on the night of the sixth," Davidson replied.
The trial also heard from 34-year-old Gary Paterson, who said he met Dickie while on remand.
Mr Paterson, who is serving a 30-month sentence, said: "He told me he was in for murder. He said he had stabbed the boy 26 times.
"He said that Callum punched him in a car, he pulled Callum out of the way and Steven had stabbed him 26 times."
When asked if Dickie had given a reason he said it was "because of his girlfriend being pregnant or something like that."
The witness added: "Steven Dickie told me that he had offered Callum £10,000 to take the blame.
Mr Paterson said he felt Dickie was "bragging about it" and he told him he was "out of order".
"Fair enough I'm in for a serious assault, but murdering someone, it's no nice," he said.
The trial continues.