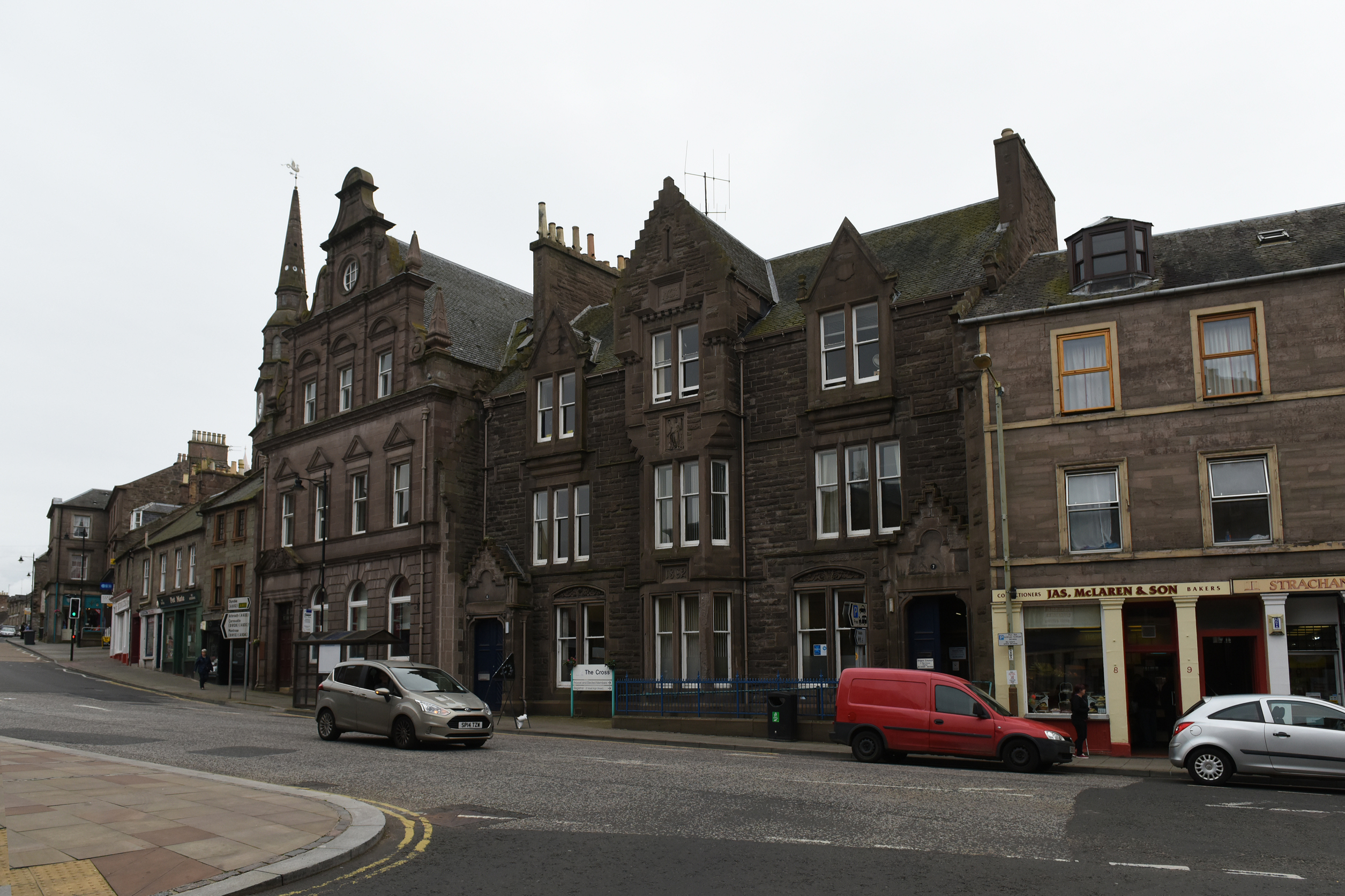 Creaking council offices flogged off after a failed 'superpub' bid have had less than £30,000 spent on them since a top executive said the authority was facing a £400k-plus upkeep bill for the landmark.
The three-storey property at The Cross was finally sold off for £250,000 in February – four and a half years after a surprise £350,000 offer from pub giant J D Wetherspoon which sparked a controversy that led to the building going on the open market.
A six-figure maintenance and repair bill was advanced as a key reason for offloading the building, but a Freedom of Information investigation has now revealed just £28,783 was spent between 2015 and the time new owners Voluntary Action Angus moved in.
Angus Council has said the much reduced outlay was in line with a "cost avoidance approach" taken after the decision to put the offices up for sale.
The building was said to be in need of major work to the roof, wiring and heating system, but FOI data has shown the largest outlays over the past three years to be £3,200 for the removal of a crumbling chimney and a £2,900 project to replace three storage heaters.
In March 2015, former council chief executive Richard Stiff told elected members in a confidential report: "The budget benefits for the council from the sale of 5-7 The Cross would be in maintenance costs avoided and savings in running costs.
"The maintenance costs for the works known to be required in the short to medium term are estimated at £417,500."
He warned councillors the six-figure bill had not been budgeted for in the council's financial forecasts.
The authority twice blocked attempts to secure the repair and maintenance spend data through the FOI process before releasing details showing a breakdown of £17,736 planned maintenance for 25 projects, and 86 unplanned jobs totalling £11,047.
A spokesman for Angus Council said: "We prepare asset management plans for all our buildings over a minimum five year period.
"This enables us to forecast future budget demands for our service delivery and for providing suitable working environments for our staff.
"Such plans allow us to forecast potential investment and improvements, as well as more routine maintenance."
He said an asset management plan for The Cross identified a number of upcoming high cost repairs and improvements. These included, but were not limited to, the building's roof, windows, rewiring and the heating system, all of which required substantial amounts to upgrade.
"The report to council in 2015 advised of these potential costs so as to inform elected members," the spokesman added.
They agreed to review the future use of the building. It was subsequently agreed, as part of our property rationalisation and cost reduction, to dispose of The Cross as being surplus to the council's need.
"Consequently, the council took a cost avoidance approach and the spend on the building since 2015 has been minimalised."