Callum Davidson, Steven Dickie and Tasmin Glass have been found guilty of killing Arbroath man Steven Donaldson.
Dickie and Davidson were convicted of murder. Glass was found guilty of culpable homicide.
This is how the heinous crime was carried out.
June 18 2017: Steven Donaldson is introduced to Tasmin Glass at Fife's Knockhill race track. A shared love of motorcycles would lead to romance.
End of 2017/early 2018: Cracks appear in the relationship and Glass writes off a car bought for her by Mr Donaldson, triggering a dispute over insurance money.
June 6 2018 early evening: Glass, by then in a sexual relationship with Steven Dickie, goes swimming with Callum Davidson and his girlfriend Claire Ogston in the river South Esk at Cortachy.
June 6  9.30 – 11pm: Glass's distinctive orange Vauxhall Corsa is filmed by CCTV on various Kirriemuir streets, with Davidson in the front passenger seat. They visit  Davidson's uncle, where a baseball bat is collected, before the car is seen by two witnesses in the car park at Kirriemuir's Peter Pan playpark on the Hill.
---
In Saturday's Courier: The full story of a murder that shocked a community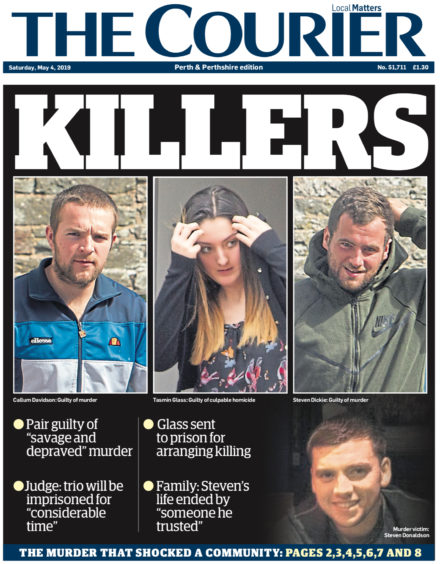 ---
June 6 just after 11pm: Steven Donaldson arrives in his BMW at the Hill, where Callum Davidson punches him several times. He is pushed aside by Steven Dickie, who launches a frenzied attack with a knife. They drive their victim on rural roads around the north of Kirriemuir in his car, before arriving at the Loch of Kinnordy RSPB reserve car park west of the town.
Steven Donaldson tries to flee his killers, but is battered at the entrance to the reserve before being dragged back through the car park and placed under the front nearside corner of his car, which is then set alight. His killers walk back to their home town.
June 7 00.49am: Two figures are seen emerging from the area of Kirrie Den and crossing the road towards the town health centre.
1.58am: Callum Davidson is seen on Kirrie town centre CCTV cycling at a "leisurely pace". Steven Donaldson's blood was on the handle grips of his mountain bike.
June 7 4.50am: RSPB warden Victoria Turnbull and colleagues arrive for a bird survey at Loch of Kinnordy. The charred and dismembered body of Steven Donaldson lies beside his burnt out car. A post mortem later reveals the cause of death to be deep chopping wounds around the base of his neck, which twice severed his spinal cord. Pathologists record 26 stab wounds on his body.
June 7 8am. Tasmin Glass turns up as normal for work at Lee's café and takeaway in Reform Street, Kirriemuir. Among her customers that day are police officers drafted in from other parts of Scotland as part of the major investigation. Later that day she attends her regular weekly singing lesson in Blairgowrie.
June 7 early evening: Dickie, Davidson and Claire Ogston go for tea at the Airlie Arms Hotel in Kirriemuir, having already agreed to "stick to a story" about their movements the previous night.
June 8: Davidson gives his first witness statement to police, telling them he and Dickie were at home, drinking beer and watching television during the time Steven Donaldson is alleged to have been murdered.
June 14: Dickie, Davidson and Glass are all arrested for the murder of Steven Donaldson. The trio are charged at Bell Street police headquarters in Dundee in the early hours of the following morning.
April 1 2019: The trial of Steven Dickie, Callum Davidson and Tasmin Glass begins at the High Court in Edinburgh, before Lord Pentland and a jury of eight men and seven women.
April 23 2019: After 14 days of evidence, advocate depute Ashley Edwards QC closes the Crown case. One of the charges against Dickie and Davidson alleging abuse of a kitten is dropped, and the prosecutor also makes an alteration to the murder indictment. All three accused subsequently take the stand to give evidence on their own behalf.
At the conclusion of defence evidence, the Crown drop five other charges on the indictment, leaving all three accused facing only the single charge of murdering Steven Donaldson.
May 2 : The jury of eight women and seven men retire to consider their verdicts.
May 3 : After nine hours of deliberation, they find all three guilty of killing Mr Donaldson. Davidson and Dickie are found guilty of murder. Glass is guilty of culpable homicide.