The killing of Steven Donaldson would not have happened without Tasmin Glass at its centre, the leader of the police investigation has insisted.
Detective chief inspector Andrew Patrick said Glass had "lured" Steven Donaldson to a meeting where Steven Dickie and Callum Davidson attacked him before driving him to the Angus nature reserve where they killed him.
DCI Patrick described how the pair used a baseball bat, a kitchen knife taken from Davidson's house and third unidentified weapon – likely an axe or a spade – to carry out a "sustained" and "frenzied" attack on the 27-year-old.
Evil killers finally brought to justice for killing of Steven Donaldson
They initially assaulted Mr Donaldson in Kirriemuir's Peter Pan playpark through an open car window before taking him to the remote Kinnordy Estate where they delivered the fatal blows.
Glass had not physically assaulted Mr Donaldson, said DCI Patrick, but she was as culpable as Dickie and Davidson for the killing.
"The crime couldn't have occurred without her facilitating and the other two having planned to get a weapon and physically start assaulting him," he said.
"In Peter Pan playpark there was a frenzied attack on Steven Donaldson, who wasn't expecting this to take place.
"He thought he was going to see Tasmin Glass to sort out his relationship with her, possibly receive some of his belongings, but was assaulted right from the very start.
"A frenzied attack took place. He was then taken to Kinnordy Estate where the attack continued up until his death."
---
In Saturday's Courier: The full story of a murder that shocked a community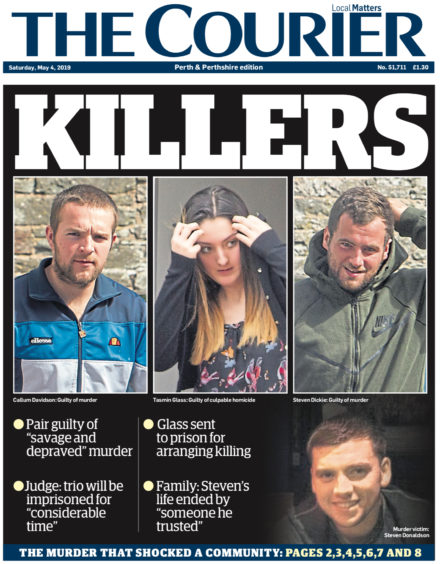 ---
Glass told the court she was pregnant with Mr Donaldson's child. She was also described as being in a sexual relationship with Dickie.
DCI Patrick said it was likely the love triangle contributed to the ferocity of the killing.
"Some of the motivation behind this crime probably arises from the fact that Steven Dickie was in a relationship with Tasmin Glass and he was jealous and angry," he said.
"You can clearly see there are some dynamics among it with Tasmin being pregnant, and she told us that Steven Donaldson was the father.
"If you were Steven Dickie, and you were involved in a relationship, then perhaps that is the motive."
He said Glass had been key to planning the attack and the events after Mr Donaldson's charred and burned body was found on June 7 last year
"It is always difficult to think why this sort of attack might take place, what goes through people's minds that would lead them to hatch a plan," he said.
"But in this case, the fact that Glass got Dickie and Davidson involved – two people who had a history of violence – and not only that but was present when they were sourcing the weapon and trying to get other people involved in the attack, shows that she clearly knew, and they clearly knew, they were going to use weapons to seriously assault somebody."
He said investigators quickly established Mr Donaldson had been in a relationship with Tasmin Glass.
They then gathered background on Dickie and Davidson, discovering they were "best of friends" who were known to the police for "low level violence" and for looking out for one another.
"We looked closely at their background to identify what they may have been involved in, to see if we could build up a history or a background for the kind of people we were dealing with.
"We know they went to primary school together, they went to secondary school together, and ultimately they socialised and drank in one another's company. And over the course of that both of them became involved in lower level violence, which was articulated in court as fights outside of licensed premises, and other general assaults.
"In effect, they were two best friends who basically did everything together, drink together, assault people together, and commit grave crimes."
---
---