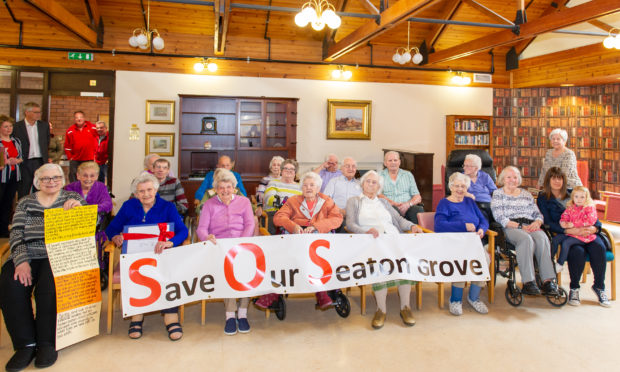 The collapse of private care home operator Four Seasons should "send a clear message" to the Angus Integration Joint Board to leave an under-threat care home "well alone" say campaigners.
The health care firm, which runs more than 300 residential and nursing homes, including facilities in Brechin and Forfar, went into administration last week.
Charities, unions and politicians have raised concerns about the future of the homes run by the company, blaming a mix of funding and staffing issues, as well as an ageing population.
The news has heightened concern about the future of Seaton Grove care home, run by the Angus Health and Social Care Partnership, which is currently reviewing the future of the unit.
Options for the Arbroath facility include closure or privatisation but campaign group Friends of Seaton Grove say that that it is "folly" to be too reliant on the private sector at a time of significant financial constraints.
Group chairman Ian Angus said: "The collapse of Four Seasons Health Care is deeply concerning for the residents and staff, but ultimately, it also has implications for Seaton Grove.
"Seaton Grove remains in the public sector for now but it faces an uncertain future while closure or privatisation remain as options on the table.
"We acknowledge that there is a role for the private sector in social care, but it seems clear to me that when a firm the size of Four Seasons goes  to the wall, then it should send a clear message to the Integration Joint Board that they need to get back to the drawing board.
"The challenges that the public and private sectors face in delivering care are not going away anytime soon.
"It is vital that another way to deliver these important services without fear that the rug will be pulled out from underneath them is found, because it seems clear to us that handing over Seaton Grove to the private sector, if it remains open, is a short term solution that will only lead to disaster."
A decision on the unit is expected in June but Independent councillor Lois Speed, who chairs the Angus Integration Joint Board for the Health and Social Care Partnership which runs Seaton Grove, was keen to underline no decision has yet been made.
She said: "The review of residential care for older people in Angus is presently ongoing,  and its purpose is to consider the quality of care provided across the service, and the most efficient and effective models of service delivery, and how we can best apply our financial resources.
"The opinions, and the feelings of service users will not be lost in this review, not least when it comes to considering Seaton Grove's future.
"We want to hear from and work with service users, their families and local communities.
"We know how valued Seaton Grove is by the people of Arbroath and I assure them that no decisions have been taken by the Angus Integration Joint Board in advance of this review process.
"When any decision is reached, our service users and their families will be among the first to know."