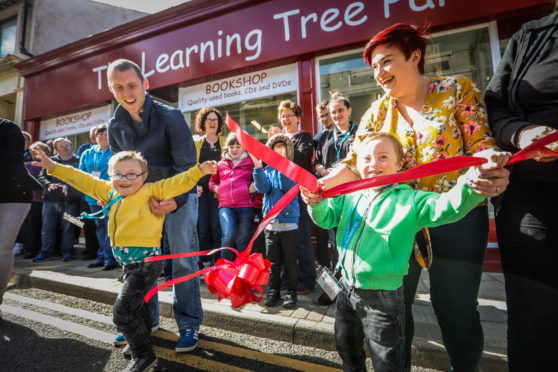 Internet sensations Ollie and Cameron Scougal were the stars of the show when they officially opened a new learning facility in Angus.
The identical twins from Dundee, whose rendition of 'This is Me' from the award-winning film "The Greatest Showman" took social media by storm and was praised by Hollywood star Hugh Jackman, cut the ribbon at a new bookshop run by The Learning Tree Partnership in Arbroath on Saturday.
Their mum Elaine has charted the six-year-olds' progress and achievements on their dedicated social media channels.
The duo opened the new facility in front of a huge crowd of learners, volunteers, supporters and customers.
The fully accessible bookshop at Guthrie Port is part of The Learning Tree Partnership centre which supports people with a learning disability to gain skills in customer service.
Morag McKenzie, development worker and one of the founders the partnership said: "We are delighted to now have a shop and training facility which offers opportunities for people with a learning disability six days a week.
"It is great having a permanent base which we have developed into a bright and welcoming shop where people are enjoying visiting and buying our used books, CDs and DVDs at reasonable prices.
"We have come a long way since our open day, exactly three years ago today, where we told people what we wanted to do at The Learning Tree.
"Since then, we have encouraged people with a learning disability to tell us what they want and how we best develop our organisation and services to suit the needs of people involved."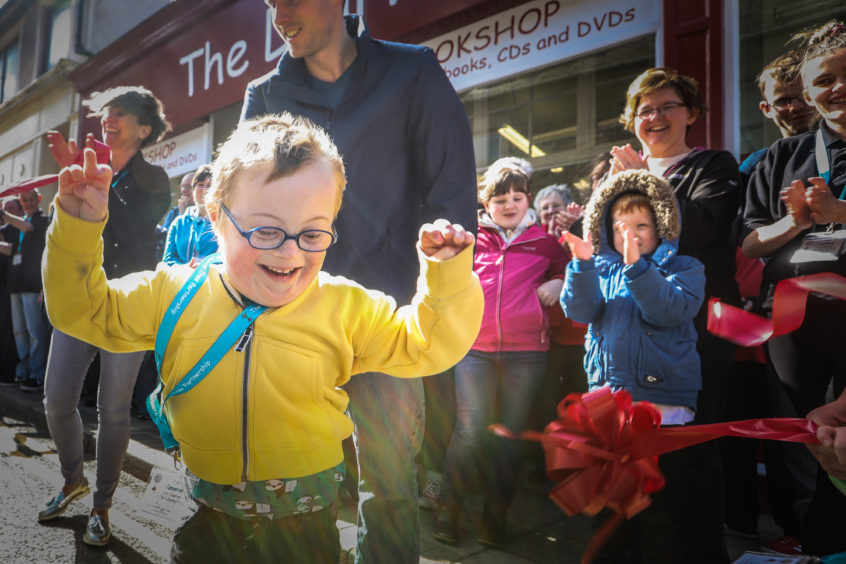 Elaine, who raises awareness of Down's Syndrome to an internet audience to prove her sons are not defined by the condition, said: "Employment skills and opportunities are so important for everyone, especially people with disabilities.
"Seeing initiatives like The Learning Tree gives us such hope for Ollie and Cameron's futures as we encourage them to have career aspirations.
"It would be great to see more of the same in all towns/regions throughout the country to benefit as many people as possible."
Arbroath East and Lunan Independent councillor Lois Speed, a trustee of the project, attended the opening.
She said: "It has been a delight to have been on this journey since the beginning when it was a vision at the early planning stage.
"Huge credit must go to Morag who held that vision and, through sheer hard work, drive and determination, captivated wider community support and interest which in turn has helped bring this incredible project to fruition.
"I know many of the learners and volunteers and have had the privilege of witnessing the positive impact and difference The Learning Tree has had on the lives of all who are involved. "