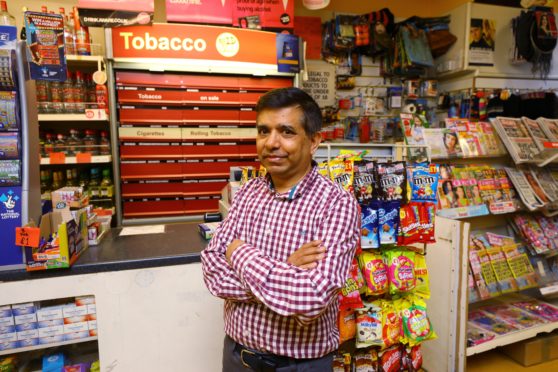 Angus shopkeepers are being urged to be on their guard after a strike on a local store by a culprit the owner fears may become more desperate and dangerous.
Police are hunting the thief who snatched three packets of cigarettes from the hand of Arbroath shop owner Uddhab Bhattarai in his West Port premises at around 5.20pm on Tuesday.
Mr Bhattarai and his wife Sova, escaped injury but he fears the brazen crook may strike again elsewhere, and potentially cause harm.
The incident follows a previous theft at the premises by a knife-wielding man.
Speaking about Tuesday's incident, Mr Bhattarai, 57, said: "He came in like a normal customer, didn't look like he was under the influence of anything at all and asked for three packets of cigarettes.
"I took the packets out and he just went towards me, grabbed them and was gone. It all happened within seconds."
He thought the man appeared to be around his mid-20s.
"After this incident I experienced, I would like to alert all small business owners to remain vigilant about these situations and such perpetrators," the shopkeeper continued.
"These incidents, if left unchecked, can escalate to cause rather serious consequences."
The counter is covered by CCTV and police are understood to be examining footage and treating the matter as a theft.
A Police Scotland spokesperson said: "We aware of the incident and are investigating."
Although the matter ended without injury being caused, Mr Bhattarai has good reason to be worried about the potential for danger after a previous knife robbery in the busy shop at the foot of the town's West Port.
In March 2015, a drug addict walked into the store in broad daylight and confronted a staff member with a kitchen knife, demanding that the till be opened.
The employee refused to hand over any cash, telling the knifeman to get out of the shop, but he grabbed around a dozen packets of cigarettes.
In a crime later branded "as cack-handed as you can get" by a sheriff, the culprit then left a trail of cigarettes leading to a house close by, where he was promptly arrested by police after a major emergency response to the early afternoon incident.
The addict was jailed for 20 months at Forfar Sheriff Court, but his shocking offence led to the assistant giving up work at the premises within weeks.