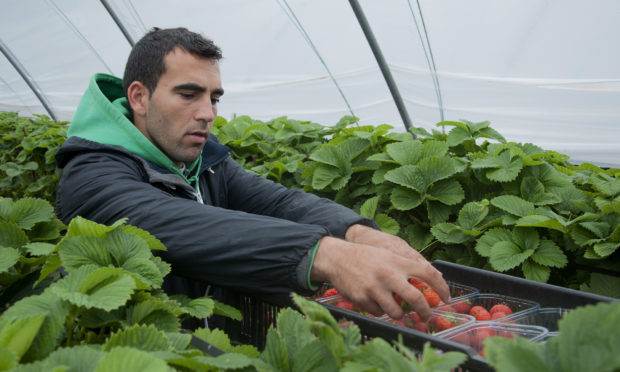 Farmers should use more machines to pick berries and vegetables, rather than rely solely on migrant workers, according to the UK government Brexit secretary.
Secretary of state for exiting the European Union Steve Barclay made the comments on a regional engagement trip to Angus.
He was defending a trial scheme for migrant workers that aims to bring 2,500 workers from outside the EU to help staff UK farms.
Industry figures have branded the scheme "too little, too late" after farmers struggled last year to find enough workers to harvest crops.
MPs have also said the scheme could lead to the exploitation of workers.
Mr Barclay said: "It's an issue I am very familiar with because I personally represent a farming constituency in the Fens, so the supply of seasonal workers has long been an issue that I've discussed with farmers.
"We have the scheme in place. There are various factors that affect the supply of workers. What's happening with the currency, for example, and what's happening with the wider economy.
"But what also fits with that is our investment in technology, driving areas such as agri-tech. So on one hand we get the right supply of labour and we look at how we deliver growth in wages and how we grow the economy.
"Part of that is also investing in technology in the agricultural sector," he added.
He said it was "right" the scheme, announced in September last year, was only a trial even though farmers and other businesses have been putting pressure on the government over the issue for more than two years.
"Firstly, we're looking for a deal, which will continue. So these are future issues that we're looking at.
"It's right that we pilot schemes, because if we didn't and issues arose, we would be criticised for not taking time to get things right.
"The immediate issue is there is no change to supply if we secure a deal and that is what the NFU themselves are calling for.
"That's why I urge all MPs representing constituencies in Scotland to get behind the deal," he said.
Kirstene Hair, Conservative MP for Angus, said: "I was very pleased to welcome the Brexit secretary to Tayside today.
"The UK Government is working towards securing a deal to ensure an orderly exit from the EU. There are clearly still challenges to address, however, not least when it comes to migrant labour.
"I have been lobbying hard on behalf of businesses in this area, particularly the fruit farming sector."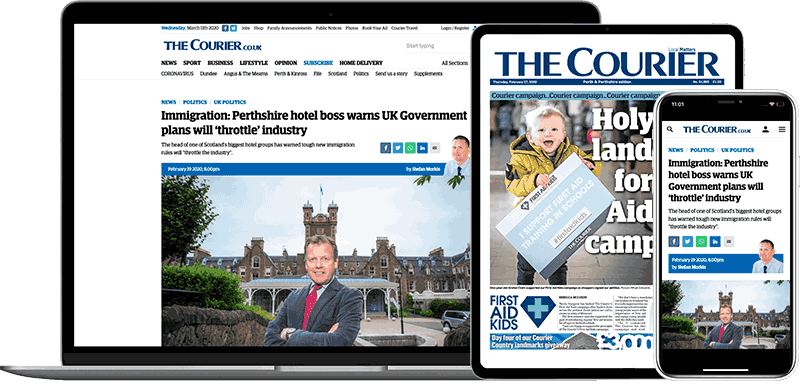 Help support quality local journalism … become a digital subscriber to The Courier
For as little as £5.99 a month you can access all of our content, including Premium articles.
Subscribe