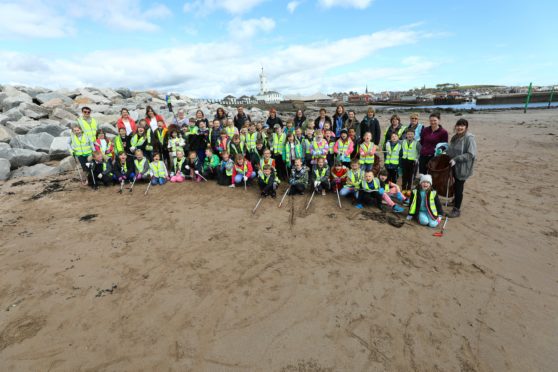 The biggest beach clean ever held in Angus got started on Friday to tackle the scourge of litter on the coastline between Carnoustie and Arbroath.
Aerial photographs of plastic, rubbish and fishing gear washed up and blown on to beauty spots and remote areas prompted the Great Angus Beach Clean.
Children from Ladyloan Primary school were one of the first groups cleaning the beach overlooked by their new school at the harbour in Arbroath.
Kirriemuir SNP councillor Julie Bell, said: "As Marine Litter habitat champion for Angus Council, I'm delighted that Ladyloan Primary School has taken on this role for schools and I look forward to working with them along our precious coastline to protect it from the scourge of dangerous litter.
"Young environmental warriors are absolutely central to addressing pollution, climate change and the destruction of natural habitats and species.
"They are really showing the way with their passion, integrity and action to address this global climate emergency.
"We have a massive job of work to do, but if we all do our bit, we can save the world. That really does give me hope."
The Great Angus Beach Clean is taking place from Carnoustie to Arbroath over three days until Sunday to coincide with Clean Up Europe weekend.
Thanks to grant funding from LEADER, the European rural development programme, the East Haven Together team have purchased a utility vehicle capable of transporting marine litter from the beach.
During the three-day event, people of all ages and all abilities are encouraged to take a walk along the coast from Carnoustie to Arbroath and pick up litter in the knowledge they won't have to carry it far.
Crawford Paris from the East Grampian Coastal Partnership, Turning the Plastic Tide project said: "Unfortunately, beach litter is becoming an all too familiar feature between Arbroath and Carnoustie and as a result of witnessing the hard-hitting scenes on Blue Planet II more people are aware that something must be done about it.
"The Great Angus Beach Clean is a fantastic and fun opportunity for those from Angus and further afield who want make a difference to this stunning stretch of coastline."
Wendy Murray from East Haven Together said there has been overwhelming support from the public "who are clearly concerned about damage to the marine environment from litter and other items which are entangling and killing marine life".
She said: "They are very keen to play their part in what has now been acknowledged to be a crisis on a planetary scale.
"People from all walks of life have taken up the call and hundreds of individuals, children, families, businesses and groups are out along the coast removing plastic and other pollutants."