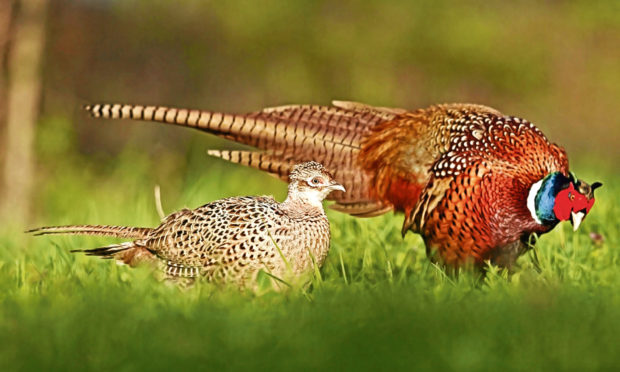 The owner of a large pheasant-rearing farm found to be in breach of planning regulations has denied knowingly breaking the rules
Amos McMullan, of Angus Game Plus Ltd, was ordered in April to remove unauthorised sheds, pens and tracks built to house 50,000 game birds at Oathlaw, around 4.5 km north of Forfar, by May 14.
Planners inspected the facility earlier this year after receiving complaints from neighbours.
Mr McMullan was criticised for forging ahead with his plan to breed gamebirds without the necessary permissions.
The enforcement notice gave the business until Tuesday to remove the huts and runs but after arguing that would be "catastrophic" to the business, which had already placed a large order for chicks, councillors gave them until September 30 to comply.
Angus Council planners have now received Mr McMullan's appeal against the enforcement notice.
In the appeal, Mr McMullan's agent Calum Mcleish, C.M Design and Build, said the original enforcement date would have seriously damaged the business.
He said: "If the notice was to be upheld that the date was to be 14th May 2019 then the financial costs due to the orders and sales in place would be catastrophic."
He said the business, which has been trading at the site for four years, has now re-positioned all the facility's temporary sheds so they were more than 100 metres away from neighbouring properties.
He said: "It was the business's belief that the agricultural small holding they operate from was suitable for the rearing of game birds.
"The siting of temporary rearing huts from April through till September was thought to be permitted again in relation to the running of the small holding."
He said the business had co-operated fully with planners throughout.
"Angus Game Plus Ltd were instructed to cease all operations at this time, which they did bar fitting roofs to temporary sheds already erected to ensure they were water tight.
"It was never the position of the business to operate out with planning regulations and they are aware of the seriousness of the situation and are cooperating fully with the planning department to remedy the situation," he added.
He said the business would submit a new planning application for two sheds for the use of game bird rearing and grain storage, new access tracks, siting of temporary sheds, planting, and for the change of use for the game bird rearing parts of the site.
He said the business's objective was "to see the season out this year"
"They want to have all the required planning permissions in place for next season and allow their business to operate within planning guidelines," he added.