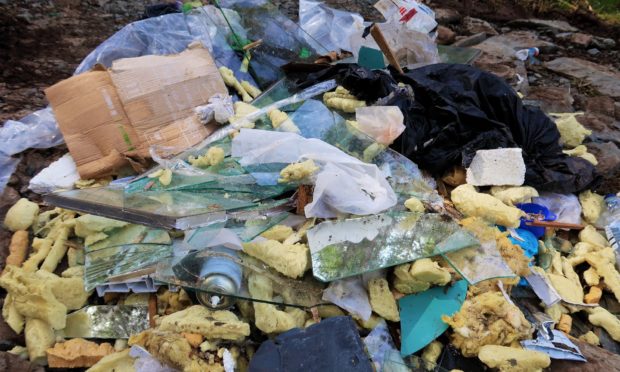 Fly-tippers are in danger of undermining Glamis Castle's place as one of Scotland's top tourist attractions.
Criminals have dumped building waste, including broken glass, used insulation and cat litter, at two sites on the Strathmore Estate surrounding the five star attraction.
Tourism experts have said the rubbish detracts from the "stunning setting", which helps to attract thousands of visitors every year.
Local politicians have rounded on the "despicable" culprits, urging members of the public to remain vigilant and report any suspicious activity to the police.
A castle spokesperson said: "Photographs show two different sites have been used to dump used cat litter, garden waste, broken glass, cardboard and miscellaneous used products.
"Illegal activities such as dumping waste on the estate will be reported to the police and actions taken to ensure that it will not happen again.
"Causing harm to the local wildlife and environment, fly-tipping ruins all the hard-work done by Strathmore Estates and Glamis Castle staff to ensure the estate is environmentally friendly and meeting conservation standards."
Marina Martinolli, project manager at the Moffat Centre for Travel and Tourism Business Development, said: "Glamis Castle is Angus' most popular visitor attraction and the castle's iconic setting in magnificent grounds adds to its appeal.
"Fly-tipping and the disposal of refuse will inevitably detract from the charm for the visitor, none more so than an attraction such as Glamis which relies on its stunning setting," she added.
Provost Ronnie Proctor said the photos had left him "absolutely disgusted."
"Glamis Castle is one of the bonniest places in the whole of Scotland and this is one of the top tourist attractions in the country. That someone could go and dump their waste there beggars belief.
"I can't understand the mentality of someone who would go and do that. It is thoughtless, despicable and it is criminal."
---
>> Keep up to date with the latest news with The Courier newsletter
---
Councillor Julie Bell, SNP, said: "It's despicable to blight someone else's property and the open countryside with waste. It's now left to others to, literally, pick up the pieces."
A police spokesperson said: "If anyone sees fly-tipping in their area, we would urge them to contact Police Scotland on 101, and if possible, provide descriptions of people or vehicles used. Fly-tipping is an offence and anyone detected of this crime will be charged and reported to the Procurator Fiscal."