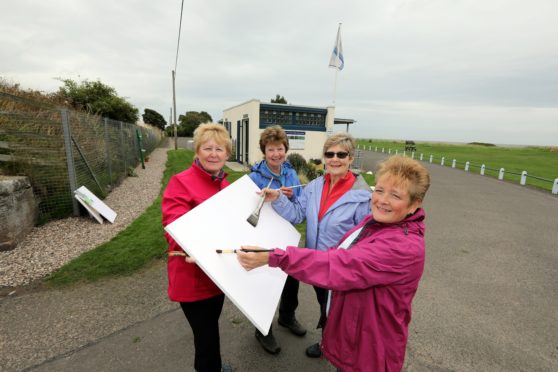 Defiant Angus toilet artists have refused to be flushed out by callous thieves.
There was public outrage after thieves plundered three paintings from the wall of a toilet in East Haven which has been transformed into an art gallery.
The toilets are run by local charity East Haven Together and have become affectionately known as the Loo-uvre.
The paintings were never recovered and the public took to social media to express both their appreciation of the facility and their anger towards the individual responsible.
Local artists were so overwhelmed by the messages of support that they spent the winter months getting their brushes out to produce more paintings for the summer season.
Gail Gilbert, who lost paintings in the brazen theft, said: "Whilst incidents such as this are upsetting, we are determined not to let the actions of one individual undermine the pleasure that paintings bring to the hundreds of people who use the facility every year."
Walkers and cyclists highly value the public toilets which are sited on National Cycle Route 1.
In a partnership arrangement with Angus Council, residents clean and manage the toilets and provide fresh flowers, paper towels and hand cream for guests.
The idea of creating a 'wee gallery' developed as the community worked to transform the facility from an aged 1970s toilet block into a facility which visitors to the rural coastal community would be pleased to use.
Wendy Murray from East Haven Together said: "If anything, the theft of the paintings last year had made artists even more determined to ensure that there are new paintings to hang in the wee gallery.
"Locals clearly love the facility and it provides a welcome surprise to those visiting from further afield."
East Haven Together was established as a charity in July 2015, replacing East Haven Residents' Association as the local community body representing the aims and aspirations of East Haven.
The aims of the group centre on developing and maintaining a sustainable community through protecting and promoting the heritage and natural environment of East Haven and serving the needs and interests of residents.