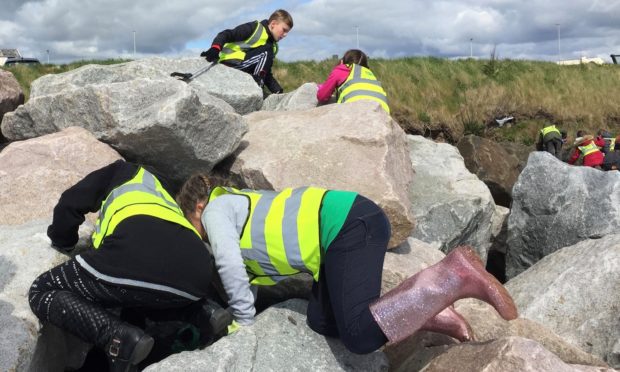 A 1960s washing up liquid bottle has been plucked from an Angus beach highlighting the dangers of long-lasting plastic waste.
Pupils from Ladyloan Primary School pulled the piece of retro-rubbish from coastal defences during the Great Angus Beach Clean on May 1.
The iconic design became synonymous with the 'here's one I made earlier' era of TV programme Blue Peter as thousands of children transformed the empty bottles into rockets and other spacecraft.
The design proved so popular Procter & Gamble issued a similar version in 2010 to mark the washing up liquid's 50th anniversary.
The empty bottle found in Angus carries the slightly different 1960s design.
Wendy Murray of East Haven Together said the children had been combing rock armour – large stones placed to combat coastal erosion – between Carnoustie and Arbroath and had worked the bottle out from between the rocks.
"They popped it in the bag and didn't think anything of it. It was only later when I was sorting through and counting all the rubbish collected did I realise what they had found," she said.
"I was shocked and amazed. It was just incredible this Fairy Liquid bottle had washed up like this."
She said pupils at the school, which is the Marine Litter Habitat Champion for Angus, were keen to learn about the dangers of plastic waste, as well as removing the 25 bags of assorted waste from the beach during their litter-pick.
The bottle was the most interesting thing they had collected, she explained, with shoes,  gloves, traffic cones and rope also among the items gathered.
"The bottle has been in the sea for 50 years or more but plastic never truly degrades; it eventually becomes micro-plastics and is digested by marine life."
She said rock armour on the beach had attracted a huge amount of waste.
"At first it looked like the beach was clean. I thought how are we going to find enough litter to keep the children busy, but then they got right down into the cracks and it was shocking how much waste and rubbish they managed to collect. The children were amazing.
"The rock armour is a hugely problematic area for attracting rubbish."
A total of 123 bags of rubbish, including the 25 collected by the Ladyloan pupils, were collected during The Great Angus Beach Clean on May 10.