Steven Donaldson killers jailed for total of 57 years
The evil killers of Angus man Steven Donaldson have been jailed for a combined 57 years.
At the High Court in Edinburgh, murderers Steven Dickie and Callum Davidson were given life sentences with minimum terms of 23 and 24 years respectively for the "savage and depraved" brutality which ended the life of the 27-year-old oil worker.
Judge Lord Pentland told the pair: "You cut him down without mercy… he had done harm to neither of you."
Mr Donaldson's former girlfriend Tasmin Glass – who was convicted of culpable homicide after luring him to a Kirriemuir playpark on a warm night a year ago next week – was sentenced to 10 years in prison.
The judge said: "It is clear you instigated the attack on Mr Donaldson."
He added: "You knew Dickie and Davidson had obtained weapons… Your plan was for your two co-accused to set upon him so you could get him out of your life… Through your duplicity Dickie and Davidson were able to take Mr Donaldson by surprise."
The discovery of Mr Donaldson's battered and burned body beside the charred shell of his BMW at Kirriemuir's Loch of Kinnordy nature reserve just before 5am on June 7 last year sparked one of the largest police investigations ever seen in Angus, with a two-mile cordon and no-fly zone set up around the wildlife attraction.
LONG READ: The Steven Donaldson murder trial as it played out – from day one to the verdict
Rumours the callous Kirriemuir trio were responsible began to sweep the town almost immediately but they spun a web of lies about their movements after swimming in an Angus glens river earlier on the fateful night, before being arrested and charged with murder a week later.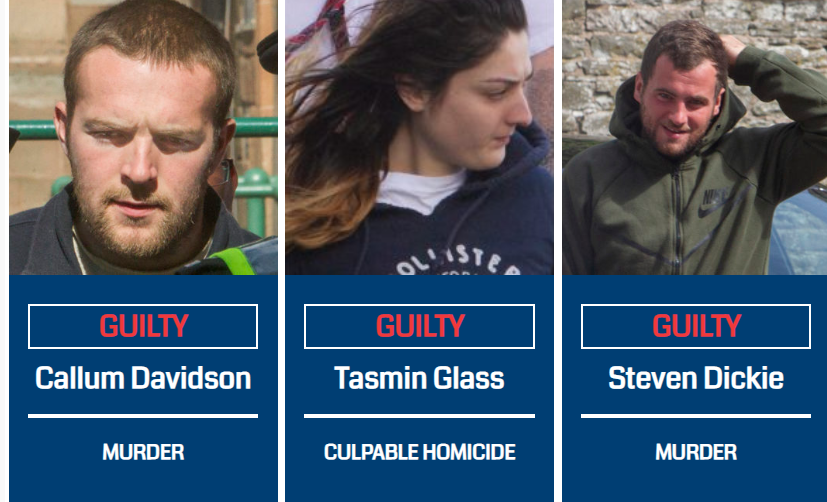 Dickie, Davidson and Glass were convicted by a High Court jury earlier this month of killing the popular motorcycling fan, who suffered 26 stab wounds in a frenzied attack.
Jurors returned majority murder verdicts on Dickie and Davidson and a unanimous verdict of culpable homicide against Glass after almost ten hours of deliberation.
The two men had initially assaulted their victim at a car park beside Kirriemuir's Peter Pan playpark then drove him, seriously injured, in his white BMW to the RSPB reserve two miles from the town.
Mr Donaldson had tried to flee for his life from his barbaric assailants, but was viciously beaten at the entrance to the nature reserve then repeatedly hit with a heavy bladed weapon – which has never been recovered – suffering fatal blows which twice severed his spinal cord.
He was dragged back across the car park and placed under the front of his car, which burned with such ferocity after being torched that the thousand degree blaze caused the vehicle to collapse onto the victim's legs, charring them beyond recognition.
The Edinburgh trial stretched over five weeks and heard evidence from more than 50 witnesses, including horrific details of the appalling catalogue of injuries sustained by Mr Donaldson. Images of the deceased were so shocking they led one male juror to collapse.
Farmhand Davidson and tyre-fitter Dickie, both now 24, blamed each other for carrying out the murder after launching an initial attack on Mr Donaldson while his sporty BMW was parked beside co-accused Glass's Vauxhall Corsa at the Angus town's Peter Pan playpark around 11pm.
Glass, then 19 and pregnant with a baby boy she gave birth to in January and which she claims to be Mr Donaldson's, had told him to meet her there to discuss their failing relationship.
The couple had rowed about money Glass was due to pay Mr Donaldson from a car insurance payout for a vehicle he had bought her.
She was in a sexual relationship with Dickie at the time of the killing and had driven his best pal Davidson to collect a baseball bat on the night of the attack, the trial having heard of a plan to give Mr Donaldson a "roughing up" for "hassling" Glass.
Steven Donaldson trial: More here