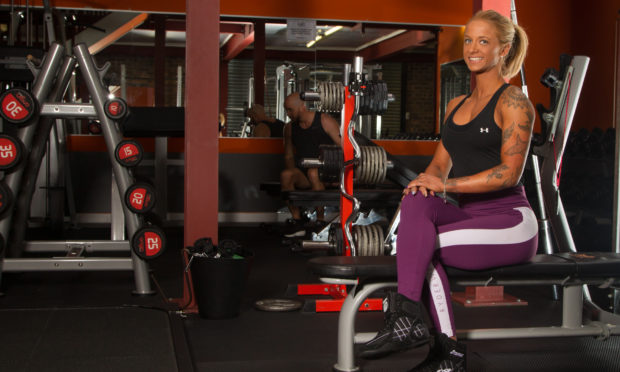 A former prison officer is urging anyone battling an eating disorder to seek professional help after a fight back to fitness.
Kirsty-Louise Hancock , 29, from Forfar, hopes her journey onto the national bodybuilding stage will help others fighting their own demons.
She found herself in a downward spiral after becoming obsessed with dieting when she took up bodybuilding whilst working as a prison officer in Jersey.
She took up the discipline as a way of building her strength and confidence while dealing with inmates.
However, her restrictive diet led to the eating disorder, bulimia, and she struggled with mental health issues.
Her road to recovery culminated at the weekend when she was placed first in the bikini class at the International Body Building Federation Association (IBFA) Northumbrian bodybuilding competition and second in the British finals class.
She is going to be joined by her partner and qualified coach, Shaun Corrigan, when they compete in the "Mr and Miss Britain" IBFA competition at Gateshead on June 9 after he also gained first in his class at the British finals last weekend.
Kirsty-Louise has also been invited to compete in the British finals for the bikini toned category at the competition.
Brought up in Arbroath and now the mother to 12-year-old Cameron, she urges anyone fighting an eating disorder to talk about what they are going through and seek professional help.
She said: "I was trying to lose weight instead of gaining muscle and was getting skinnier.
"I now feel absolutely fantastic.
"I had no intention of competing last weekend – I was going to begin next year and only entered the competition to gain experience and confidence.
"Shaun is also a body-builder and also suffered from an eating disorder so we could relate to what I was going through. We have come so far together."
Kirsty-Louise has shared her journey on social media which has received a lot of positive feedback from men and women on her Instagram account.
She continued: "I want people to know there is a lot of support out there.
"I wish I had known there was so much support at the time I was suffering as I wouldn't have felt so alone and isolated.
"I want my story to help raise awareness of mental health issues and eating disorders and to let people going through the same experience know it is okay to ask for help."
Kirsty-Louise sought medical support during her road back to fitness and from websites including www.mentalhealthmuscle.org and www.beateatingdisorders.org.uk